What The Funk!? Invitational October 4, 2016
(Denver, CO) – What the Funk!? Invitational is returning to Denver for the 2016 Great American Beer Festival, with proceeds benefiting a local non-profit organization! Last year's WTF!? Invitational festival raised $26,000 for two local non-profit organizations, Cancer Climber and Water for People. The fifth installment of WTF!? will take place at the EXDO Event Center (1399 35thSt. Denver, CO 80205) on Tuesday, October 4th, 2016 from 6 p.m. – 10 p.m.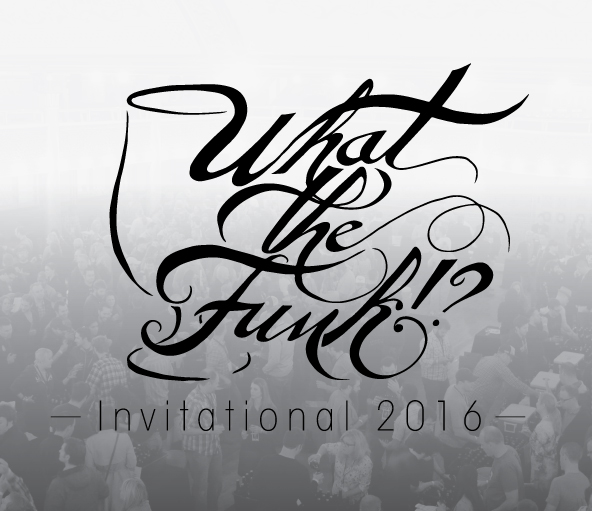 What the Funk!? Invitational is a celebration of all things barrel-aged from boozy and strong to wild, sour, and funky. Seeking out the fascinating and inspiring artisans, this invitational style festival provides a curated interactive setting where beer enthusiasts can mingle, meeting the brewers and other alchemists who create sought after barrel-aged liquids. Sponsored by Denver-based Crooked Stave Artisan Beer Project and Shelton Brothers, this festival features numerous breweries from across the United States and around the World making some of the best barrel-aged libations.
In a break from last year's setup, which featured its fair share of complications on festival day, this year's festival will return to its roots at the EXDO event center. In order to make sure this year's festival goes off with a bang, and maybe a few popping corks, the brewery has also partnered with Shelton Brothers for a little added excitement. The EXDO Event Center offers a large open space, with unobstructed access to the brewers and artisans, all in a meet and greet style hangout.
"We learned a lot from last year's festival," said Crooked Stave Owner/Brewmaster Chad Yakobson. "It is always our mission to put on the best barrel-aged festival we possibly can by bringing in exciting brewers from around the world that would not be here in Denver if it were not for this festival. That did not translate in 2015 as it did in year's past, as we would have hoped. All we can do is hang in there and strive to make this year the best of any of the years for every festival goer."
WTF!? Invitational is one of the only festivals in the world to feature so many of the best barrel-aged beers under one roof with all the artisans present. This year will feature more beer from each brewer in attendance, a simplified layout in order to easily access all the brewers, as well as a reduced number of tickets available, with the size of the crowd decreasing by 25% from last year. "With a smaller crowd of participants, back to our old home at EXDO Event Center which holds 1500 people and more beer it should mean a great experience and amazing night of tasting many rare barrel-aged beers from around the world," said Co-curator of WTF?! and Crooked Stave COO Yetta Vorobik-Yakobson. "Plans are also in place to minimize the time in line by prescreening and allowing guests to get checked in early so participants can be ready to taste right at 6:00 p.m."
Tickets will go on sale Wednesday, August 24th, 2016 at 10 a.m. Mountain Standard Time on www.wtfinvitational.com. This year's WTF!? Invitational will offer general admission tickets for $100, taxes and fees included and 800 total tickets available. Proceeds from this year's What the Funk!? Invitational will benefit Water for People, a local non-profit organization that works to provide clean water systems to developing countries.
About Crooked Stave Artisan Beer Project
Founded in Denver, CO. in late 2010 as an Artisan Beer Project, Crooked Stave is the culmination of "Founder and Brettanomyces Guru" Chad Yakobson's open source Master's research, The Brettanomyces Project. Crooked Stave's progressive approach to brewing blends science and art through creativity and passion. The artistic creations, most of which use Brettanomyces yeast and mature in oak, result in beers of extraordinary complexity.
About Shelton Brothers
Our motto is: "The world's best beers … imported by hand." There's no miracle to importing good beer – just hard work and a lot of travel. For 20 years we've been seeking unmanipulated beer and cider, looking primarily to small breweries with craftsmen taking seriously their passion for natural, traditionally made beverage. Mostly we just like to drink good stuff made by good people.
About Water for People
Water for People is a Denver-based international nonprofit working to bring access to safe water and sanitation to 4 million people in 30 districts across nine countries. By working with local governments, the private sector, and strategic partners, Water for People strives to ensure that every family, every school and every clinic (Everyone) in a specific region has access for generations to come (Forever). This Everyone Forever model catalyzes transformative change for better health and economic development to occur. We want to see communities break free from the cycle of poverty and spend time growing, learning, and thriving, instead of walking for water and fighting off illness.