Four Peaks Brewing 2012 Autumnal Beer Dinner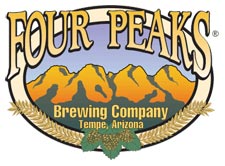 Four Peaks Brewing Company is pleased to announce the date and the specifics of our 2012 Autumnal Beer Dinner.Space will be limited to the first 75 lucky individuals with tickets going on sale starting at, holy cow, RIGHT NOW exclusively on our website for only $65/person.  Make sure you follow the link below to purchase your tickets today, all sales are final and when we're sold out, well we're sold out! Purchase your tickets NOW by clicking here! 
Our 2012 Autumnal Beer Dinner will be held on Tuesday, November 13th with the Reception Beer (currently "To Be Determined") being poured at 7pm.
See the full menu below:
Four Peaks Brewing Company Gourmet Beer Dinner – 7:00 p.m. November 13, 2012 Reception * T.B.D *
First Course
Stuffed Poblano – Queso asadero, queso fresco, shrimp & scallops over Aji Amarillo sauce served with roasted corn, pepitas & pomegranate seeds.
Hefeweizen
Second Course
Oxtail & Short Rib Raviolo – Asiago, marscapone & burrata stuffed inside chipotle pasta in a natural reduction with homemade pancetta & English peas.
Raj India Pale Ale
Third Course
Mixed Grill – A pecan grilled elk chop with Cascabel Chili sauce & a grilled venison chop with blackberry stout demi-glace, accompanied with spicy Yucca puree & ratatouille.
Kilt Lifter Scottish Style Ale
Fourth Course
Butterscotch Budino – Topped with sea salt, caramel and whipped cream, served with rosemary shortbread cookie.
Pumpkin Porter
Only $ 65 per person++
This is bound to be the Beer Dinner Event of the year (as well as the final one of the year) so don't miss out!
Cheers,
The Four Peaks Brewing Company