Flying Dog Brewery Hosts Summer Sessions Concert Series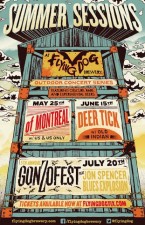 Frederick, MD – Flying Dog Brewery has secured three internationally-renowned bands for its 2013 outdoor summer concert series.
The Maryland-based brewery's Summer Sessions, on the lawn of the brewery's grounds in Frederick, will feature of Montreal on May 25 and indie rockers Deer Tick on June 15. Then, The Jon Spencer Blues Explosion will headline Flying Dog's 5th annual Gonzofest on July 20.
"From independent music to the art of brewing craft beer, we support creativity in all forms," Ben Savage, Flying Dog's chief marketing officer, said. "We also love having this opportunity for some of our favorite local bands to share the stage with these internationally-touring artists."
Us and Us Only, an up-and-coming band from Baltimore, will open for of Montreal and Frederick's hometown heroes, Old Indian, are opening for Deer Tick on June 15.
Tickets for the Summer Sessions are limited and on sale now through FlyingDogTix.com.
The Summer Sessions are part of a commitment by the brewery to further the area's music scene, also evident in the recently established Flying Dog Music program. The program aims to connect local musicians with new audiences and opportunities through the brewery's network of venues, studios, vendors, and more.
Flying Dog Music recently released its first compilation – Baltimore: Volume 1 – in partnership with Mobtown Studios, a Baltimore recording and mastering studio. The 16-track CD is an eclectic mix of indie acts, soul, avant jazz, pop punk, and symphonic rock from the likes of Mr. Moccasin, Holy Ghost Party, Brooks Long & The Mad Dog No Good, Microkingdom, The Manly Deeds, Me & This Army and more.
"We set out to highlight the sounds of Baltimore's burgeoning music scene," Savage said. "Our longtime partnership with Mobtown Studios was taken to the next level with this project, as producer Mat Leffler-Schulman, with help of local musician Al Shipley, gathered submissions from all corners of the city and selected some of the best talent in the area."
The compilation will officially be released May 24 at Baltimore's famed Ottobar, and will continue to be available at Flying Dog Music events throughout the year.
About Flying Dog Brewery:
"Good beer, no shit." Located in Frederick, MD, Flying Dog is Maryland's largest brewery. As its tagline proclaims, Flying Dog is committed to producing world-class craft beer and continues to push the envelope with experimental and limited-edition releases. For more information, please visit www.flyingdogbrewery.com.