Figueroa Mountain Brewing Arroyo Grande Taproom Grand Opening This Weekend
(Buellton, CA) – Figueroa Mountain Brewing Company is celebrating the Grand Opening of their fifth taproom in Arroyo Grande, California during the weekend of Friday, July 10 through Sunday, July 12, 2015. The former Applebee's will now be home to a 200-seat restaurant and 15-barrel brewhouse located at 1462 E. Grand Avenue. Their family-friendly menu includes gastropub fare ranging from salads to entrees, burgers and sandwiches, with landmark-inspired names such as "The Pike" Cola-spiked Carnitas Sandwich with Hurricane Deck DIPA Barbeque Sauce. A kids menu is available for children and for those looking for shared plates, a Bar Bites menu has a variety of dishes to enjoy like Avila Fish Tacos or Bacon Mac 'N' Cheese.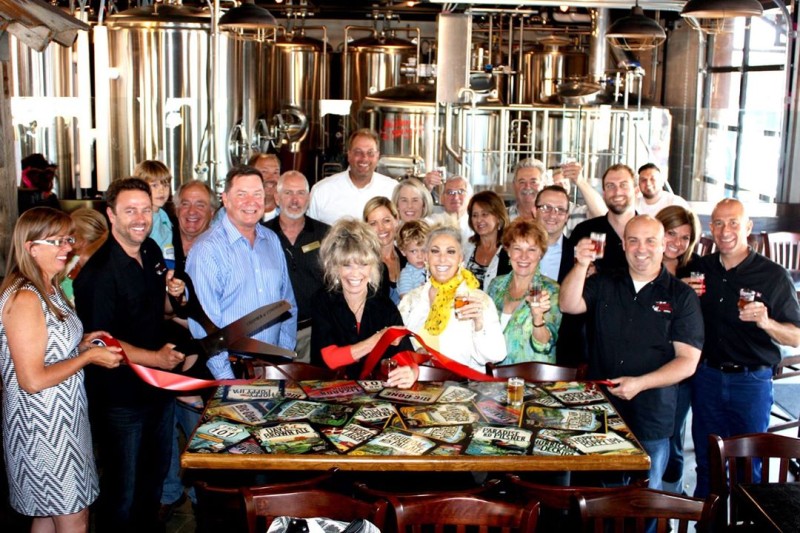 Executive Chef, Marcel Bustos has created a diverse menu for FigMtnBrew's Arroyo Grande taproom. "We take pride in making dishes from scratch with fresh, flavorful ingredients. Our food is approachable and high quality with something for everyone on the menu," explains Executive Chef Marcel Bustos. "Our unique sauces are all house made like the spicy arugula aioli that accompanies our hand cut sweet potato fries or the Hurricane Deck Double IPA sauce for our burgers. For those with a sweet tooth, we have an outstanding Fuji Apple and Raisin Bread Pudding with cinnamon sweet cream and caramel sauce."
Figueroa Mountain Brewing Co. is currently the only craft brewery in Arroyo Grande. "We are honored to be part of the Arroyo Grande community as the first brewery in town," says Taproom Manger, Rick Pike. "The restaurant is a great place to come with your family or friends and we have a lot of reasons to keep coming back. From Monday through Thursday, 4:00 PM to 6:00 PM we offer a Happy Hour with $1-off pints and mugs. With the $4.00 beer of the week that means there will always be a $3.00 pint available. We offer the same deal for Sunday Fun Day from 11:00 AM to 3:00 PM every Sunday."
In addition to happy hours, here is a list of other weekly promotions:
Mondays: Mug Club Monday with $2-off mugs of beer all day long for Mug Club Members
Wednesdays: Benefit Tap Handle Night where a portion of the proceeds from a designated tap handle are donated to a local charity
Fridays: Every week we'll release a new cask ale on Firkin Fridays
Friday and Saturdays: Live Music from 8-10:30pm
The new restaurant will be the first brewpub for Figueroa Mountain Brewing Co. with a brewery and restaurant on-site. Head Brewer of Arroyo Grande, David Traille, exudes excitement when discussing the new brewery:
"We are so excited to begin brewing in our new Arroyo Grande facility. The Dietenhofers, Mike (Hastings, Director of Brewing Operations) and I made sure everything was perfect for this new setup. We actually serve beer directly from the tanks to the taps at the bar. You can't get fresher beer than that!"
Having a brewery at the new taproom allows David to brew specialty beers not only for that location but for nearby retail accounts, as well. In addition to their year-round line-up of beers, Figueroa Mountain Brewing Co. will offer cask ales, beers on nitro, collaboration beers from their Short Tank Series, seasonal beers and taproom specialties brewed by David as well as from other FigMtnBrew taprooms. Beer cocktails and floats are also available along with local wines and sodas.
The Arroyo Grande taproom joins five other taprooms located in Buellton, Los Olivos, Santa Barbara, Santa Maria, California. A Westlake Village taproom is set to open mid-August.
www.figmtnbrew.com – @FigMtnBrew – facebook