Epic Brewing Holds 2nd Annual 50 Firkin Fiasco – October 2, 2014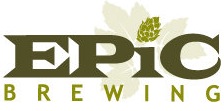 Denver, CO, September 16th – To celebrate the Denver Brewery's first anniversary and The Great American Beer Festival, Epic Brewing is hosting a special event on October 2nd. Epic Brewing's Second Annual 50 Firkin Fiasco will feature fifty unique cask beers that highlight the brewery's beer portfolio and the creativity of its brewers and cellar staff.
This year the full event will be open to the public from 2:00 – 7:00 pm. Tickets are $25.00 and include a 7oz tasting glass. The first 100 people through the door will also receive a "50 Firkin Fiasco" t-shirt. Tickets are available through Imbibe Denver and at https://50firkins.nightout.com. The brewing staff will be on hand to discuss the beers as participants explore the brewery. Food vendors will also be onsite during the event providing lunch and dinner.
"We've pulled off this event before without its namesake coming true, but that doesn't mean it's not exciting – they're a ton of fun with unique beers that won't be seen anywhere else. If you're looking for rare beer during GABF, this is where you need to be," says Kevin Crompton, Epic's Brewmaster.
Some of the firkins that will be on tap include: Santa Cruz Brown Ale with toasted oak and whole leaf Chinook hops, Mid Mountain Mild Ale with cascara coffee cherries, Hopulent IPA with sweet orange peel, 825 State Stout with Novo Coffee "Finca Cilladiana" blend, Hop Syndrome Lager with coriander and Capt'n Crompton's Pale ale with whole leaf Cascade hops and grapefruit.
"We already produce over 40 styles of beer on a regular basis at Epic and this event brings us to 90 plus. We always have something new going on and that's a good time for everyone." explains David Cole, Epic's Co-Founder.
GABF Events
Epic Brewing will be pouring Big Bad Baptist, Double Skull Doppelbock, Escape to Colorado IPA, Hopulent IPA, and Brainless on Cherries at GABF. They will also be participating in several local events. Below is complete list:
Monday 9/29: Chiba Hut will be tapping Big Bad Baptist at 6pm.
Tuesday 9/30: Paramount Café Beer Festival. Epic will be pouring Escape to Colorado IPA and Sour Apple Saison
Wednesday 10/1: World of Beer Barrel Aged Night. Epic is serving Pomme Baril an apple ale aged in brandy barrels.
Renegade's Offensively Delicious Comedy Event. Epic will be pouring Fest Devious Marzen Lager, Escape to Colorado IPA, Big Bad Baptist, Brainless on Cherries and Sour Apple Saison.
Freshcraft Firkin. Epic is tapping a real-ale firkin of its 825 State Stout with cascara.
Thursday 10/2: What the Funk Festival. Epic will be bring out its "Beautiful Disaster" Wild Brainless on Peaches, as well as, Wild Brainless on Cherries, and Big Bad Baptist.
Friday 10/3: Elder Brett will be served at Falling Rock's Rare Beer Tapping, 4-5pm. Later that night at 11:30, Falling Rock will be hosting a Brainless Night, serving Brainless on Peaches, Brainless on Cherries, Brainless Raspberries, Brainless IPA and Big Bad Baptist.
# # #
Epic Brewing Company, LLC was opened in May of 2010. Epic Brewing Company was founded in Salt Lake City and is known for its passion for brewing award-winning, boutique, full strength, real Ales and Lagers. Epic is distributed in the following States: Utah, California, Colorado, Oregon, Arizona, Idaho, Nevada, Ohio, Virginia & Washington DC, New Jersey, Minnesota, North Carolina, Michigan, Washington, Wisconsin, Montana, and Texas.