City Tavern + Ladyface Ale Companie End of Summer Picnic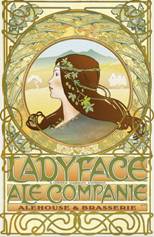 Tickets are still available for this seemingly amazing Ladyface Ale Companie beer pairing dinner at City Tavern in Culver City, CA.  Read on for the what, where, when and as well as the tasting menu. Cheers!
What: City Tavern is teaming up with one of SoCal's hottest craft beer breweries, Ladyface Ale Companie, to bring you a special 4-course beer-pairing dinner for an end of summer picnic and of course, ale-tasting. Cost: $46 per person.
When: Thursday, September 15, 2011
Where: City Tavern, 9739 Culver Blvd., Culver City, CA 90232. To RSVP, call: 310.838.9739
City Tavern and Ladyface Ale Companie
End of Summer Picnic and Beer Tasting Menu
09.15.11

Amuse bouche
deviled egg, asparagus, roe
troisfilles tripel
6oz., abv: 8.3%

1st course
orzo salad with crab, avocado, grapefruit and beet vinaigrette
chaparral saison
6 oz., abv: 8.7%

2nd course
potted duck confit and crisps
chesebro ipa
6 oz., abv: 10.9%

3rd course
smoked cocoa-rubbed tri-tip sandwich and potato salad
picture city porter
6 oz., abv: 7.0%

Dessert
spiked watermelon and peppered strawberries
sazerac-oaked red rye
6 oz., abv: 7.2%