Cigar City Hunahpu's Day 2014 – The Fallout With Pics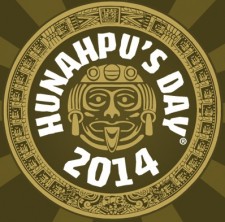 For for the most avid of craft beer fanatics, you might have heard about Cigar City's Hunahpu Day fiasco this past weekend. For those who didn't, it did not go as planned.
Hunahpu's Imperial Stout is in my top 3 favorite beers, I've never been to Cigar City, and I miss my brother who lives in Florida, so I put all those together to make a long weekend out of seeing my brother and going to "the mecca." While my brother isn't into the same beer or beer culture as I am, he was down for the cause, and rolled with me to Tampa late Saturday morning to see what the experience of going to the source and attending what's revered as one of the biggest, best beer events of the year.
Due to traffic, we ran an hour late to the event. Our line of thinking was we'd beat the initial rush being an hour late, and would be able to cruise right in and enjoy. We were shocked to see a mile long line that we never actually saw the end of.
Once we got in, we were immediately part of a bumper to bumper sea of people. We heard there was a live band, and it was so loud and crowded, we couldn't hear the band at all at first. We wanted to meet up with some other friends from out of town, who were camped out by the band at the far end of the festival.  Getting to the far end near the band took us over 20 minutes. It was literally that packed with people. My poor brother even bumped into a dainty young man wearing a scarf and white tshirt and got Hunahpu all over it. The day went downhill from there.
Once we found our friend, we began sharing bottles underneath a tent near the band playing on the loading dock. The first thing on my mind was to get a taster glass of Hunahpu. I asked my friends who had been there where the Hunahpu's was being served, I asked folks pouring at the Cigar City Brewpub tent where I could find the beer I came to drink, and nobody knew.  Every single facet of the event was met with a line that got longer by the second. At about 2:30, I wanted to get in line for Hunahpu bottles. My brother wanted to get in line for a food truck. Both lines weren't really lines, just a mass of people that got wider, and subsequently got us further from our destination by the second.  We had to call an audible so we didn't lose our shit.
After some deep breaths, my brother and I walked back to our hotel around the corner and hitched a shuttle to the fancy mall food court around the corner. We thought perhaps we would eat lunch, we'd come back and things would settle down.  On our stroll back, we saw men and woman hiking on the grass away from the fest with boxes of Hunahpu. Our hopes were that some people were even filing out of the fest, and I'd be able to snag my bottles.
Our hypothesis was partially correct. There were less people, but it was more chaotic.  A good deal of the bottle share participants were in bad condition. Bottles and cardboard boxes were everywhere. Lot's of sunburns, lots of squinted eyes. The word from those still coherent was that all the good beers on that tap list of 220+ beers were gone, and still could not find a single sip of Hunahpu.  My brother and I agreed the day was a wash, but at least we still had our wristbands, and 6 Hunahpu's would be ours. I had also imagined, based on the sign that read "1 case limit of Hunahpu's 4-5pm" might mean that my bracelet would give me the opportunity to buy more than six. After all, I have dear friends who wanted me to bring back a bottle, I could spare a few extra Andrew Jacksons.
At about 4:30 PM, standing in the Hunahpu's bottle line again, still not moving, we started hearing  a crazy commotion. After a game of drunk telephone, the word got back to the end of the line where we were, that Hunahpu's has been sold out! At this point, I was already passed disappointed, so my level of shock wasn't out of control. Not having gotten a buzz also helped me control my emotions. Unfortunately for the champions who hit it hard at the bottle share, there was some real anger in the air. My brother and I said eff it, and headed for the exit gate.
I could not believe I traveled so far, booked a hotel, dragged my brother with a wad of cash and that was the end result.  There was no reason for us to stay over night in Tampa, as the reason we booked the hotel was for safety.  On the way back in to the hotel, we were greated by sunburned zombies. We saw one dude loading CASES of Hunahpu's into his SUV. In a last ditch effort, I told him I was shut out, and if I could buy a few bottles. "Sorry bro, these are all spoken for."
This isn't the first beer event disaster in history, it won't be the last, but we were curious how CCB would handle this. Within 15 minutes after 5PM (the end time of the event), Cigar City admitted something went terribly wrong (we're guessing about 5k extra people), and that they were sincerely sorry. Probably prematurely, but none the less from the heart, Cigar City attempted to put some bandaids on the big wound. The said somehow they will make it right. They told people who didn't use their wristbands to keep them. They offered complimentary beer at the brewpub the following day, and after people got even more mad at the gestures, said everyone would be refunded their price of admission.
This isn't an opinion piece, but more of a recap, so I will save my opinion on what should have been done in hindsight. I just know as of this writing, Cigar City is looking to refund around a quarter of a million dollars over the next few weeks, and will possibly brew a "makeup" batch of Hunahpu's to those who were shut out.
On Sunday, a few friends messaged me offer to sell me bottles at face value, and I was appreciative of that. I still love Cigar City, I forgive Cigar City, but March 8, 2014 is a day I will never forget.
CLICK HERE TO READ ABOUT THE FUTURE OF HUNAHPU'S DAY