The Bruery's Cuivre (Copper) Anniversary – May 16, 2015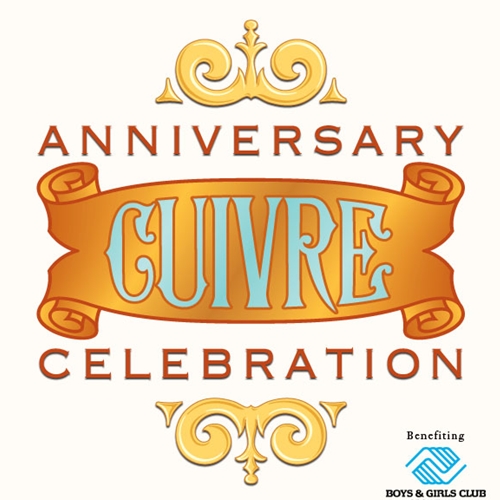 (Placentia,CA) – The Bruery Society members, start your countdown to the May 16th for the Bruery's 7th Anniversary Party known as Cuivre! Tickets now on sale at Bruery store. Cheers!
The Boys & Girls Club of Santa Ana, in coordination with The Bruery, are proud to present this our 7th Anniversary celebration – Copperversary!
This event, which is exclusive to The Bruery's Reserve and Hoarders Society members and their guests, will be one of the largest events of the year. Attendees will have the opportunity to taste myriad beer offerings from The Bruery as well as other favorite SoCal craft brewers, all while helping a great organization.
Date: May 16th 2015
Hoarders Society Time: 12-5pm
Reserve Society Time: 1-5pm
Venue: The Phoenix Club in Anaheim
Benefitting: The Boys & Girls Club of Santa Ana
Price: $60 (Member discount already included)
Ticket Limits: Reserve Society – 2 Tickets // Hoarders Society – 4
Ticket Includes: Unlimited beer tasting (1-3oz pour sizes), catered plate from Beachwood BBQ, collectible glassware, samples of non-alcoholic specialty beverages, and fun times.
No physical tickets are needed. We will have a check-in list at the door. Please make sure you have a photo ID and a copy of your receipt. This event is 21 & over. Tickets are non-transferrable and not refundable. Purchasing society member must be present in order for guests to attend. Food will be catered by Beachwood BBQ (meat and vegetarian options available).
Beer list
Coming soon!
The Breweries
Almanac Beer Company
Artifex Brewing Company
Bagby Beer Company
Ballast Point Brewing Company
Barley Forge Brewing Company
Beach City Brewery
Beachwood BBQ & Brewing
Bootleggers Brewery
Bottle Logic Brewing
The Bruery
Bruery Terreux
El Segundo Brewing
Fifty Fifty Craft Brewery
Firestone Walker Brewing Company
Four Sons Brewing
Golden Road Brewing
Good Beer Co.
Green Flash Brewing Company
Hangar 24 Craft Brewery
Highland Park Brewery
Hoparazzi Brewing Company
King Harbor Brewing Compaby
Ladyface Ale Companie
The Libertine
The Lost Abbey
Macleod Ale Brewing Company
Modern Times
Monkish Brewing Company
Noble Ale Works
Phantom Carriage
Pizza Port San Clemente
The Rare Barrel
Saint Archer Brewing Company
Smog City Brewing Company
Stone Brewing Company
TAPS Brewery
Three Weavers Brewing Company
Tustin Brewing Company
Valiant Brewing Company
FAQ
When do tickets go on sale?
Tickets will be available for purchase online only through Thebruerystore.com. Tickets go on sale Monday, March 16th, 2015
When is the last day to purchase tickets?
Ticket sales will close on May 8th, 2015.
How many tickets can I purchase?
Hoarders members may purchase a total of 4 regular tickets. Reserve members may purchase a total of 2 regular tickets. Each member can purchase 1 Designated Driver ticket in addition to the above ticket allocations.
What do I get with admission?
With your ticket, you will receive entrance into the event, a commemorative glass, unlimited beer tastings and a catered plate from Beachwood BBQ. We will also have specialty vendors sampling out non-alcoholic beverages such as coffee, specialty teas and craft sodas.
What time does the event start?
The event will start at 12pm for Hoarders Society members and 1pm for Reserve Society members.
What time does the event end?
The event will end at 5pm. Last call will be at 4:30pm. Final pours will be served at 4:45pm.
Is there anything I can do to make sure the check in line moves faster?
Absolutely! Make sure you have your ID ready. Whether you're 21 or 81, we will have to see your ID to ensure you're of legal drinking age and to ensure you purchased a ticket to the event. Feel free to bring your TheBrueryStore.com receipt just in case. There will also be a bag check. So if you need to bring a bag in, be ready to present it to the security team.
What items are not allowed in my bag?
Any sort of outside food or beverages, weapons or items construed as weapons and no illegal drugs of any kind. There will be plenty of water, beverages and food located inside the venue.
What do I need to bring to get into the festival?
In order to get into the festival you MUST bring your ID. No exceptions.
Does the name of the member who purchased the tickets need to match the ID at the event and do they have to be present for their guests to attend?
Yes! This event is solely for Society members and their guests. Guests that are not part of The Bruery's Societies must enter with the respective member who purchased the tickets with their online account.
My BFF and I share our membership and my name is on the account, but I can't make it. Can my trustee attend the event in my place?
Sorry, the member whose name is listed as the Account Holder must be present and must attend the event in order to have any guest attend the event.
What is the Phoenix Club like?
The Phoenix Club has a large outdoor space where the event will take place. There is a shaded tent that will have vendors underneath. However, many breweries and vendors will be located outdoors. So please dress accordingly and bring sunscreen or a hat if you're worried about the California sun. If you're interested in seeing photos from our Sucreversary event last year, check those out here!
What happens if it rains?
The event will take place rain or shine. Be prepared for the heat and drink plenty of water before and during the event.
Are there Designated Driver tickets?
We are offering designated driver tickets. The designated driver ticket includes a commemorative glass and a plate of Beachwood BBQ's fare. There will be plenty of water and soda available for consumption. As well as non-alcoholic vendors that will be sampling out their products.
Are children allowed at the event?
The event is 21 and over only. No infants or children will be allowed entry.
Are Pets allowed at the event?
No. Pets are not allowed (with the exception of service animals).
Is there seating at the event?
There are plenty of tables with seating located around the grounds of The Phoenix Club. Many of these tables have umbrellas to help shade you while you're sitting and relaxing.
What is the parking situation like?
Event Parking will be located at The Phoenix Club at no additional cost. There will be parking attendants and signs to help guide you to the designated parking lot for the event.
Can we have a bottle share while we wait in line for entrance?
No silly! Legally, this is not permitted. Security guards and event staff have the right to confiscate any open bottles and revoke your ticket to the event if illegal activities are occurring on The Phoenix Club's property.
Can I bring beer bottles into the event?
You cannot bring in any outside beverages.
Can I bring in additional food or my own water?
Unfortunately, The Phoenix Club does not allow outside food or beverages inside the event (this includes pretzel necklaces and water bottles). Don't worry, there will be plenty of food and drink options inside the venue.
How many pours of beer will I receive with my ticket?
There will be unlimited pours of beer during the event. Beer is served on a first come first served basis. Some of the kegs may run out, so plan out your day accordingly.
How many ounces is each pour of beer?
Depending on the ABV and quantity supplied of each beer, the serving size will range from 1 – 3 ounces.
Will there be additional food for purchase at the event?
Yes! We will have a couple food vendors present in case you still have the munchies after your catered plate. As with any beer event, we strongly recommend eating a hearty breakfast beforehand.
Will there be vegetarian or vegan food options available?
Beachwood BBQ will have vegan/vegetarian options available upon request. However, there will a limited supply of these options. So please plan out your mealtime accordingly.
What kind of non-alcoholic beverages will be available?
There will be vendors present that will be handing out samples of cold brew coffee and other non-alcoholic beverages in case you get beer'ed out.
Will you be offering any Bruery merchandise for purchase during the event?
We will be selling a selection of merchandise at the event. The merch table will only be accepting cash payments. So if you're interested, please bring cash. Otherwise, The Phoenix Club has an ATM on site (with a transaction fee).
Do you have any alternative suggestions getting to and from the event besides driving?
The ARTIC Amtrak station is about 1.5 miles from The Phoenix Club. Otherwise, we love Uber and Yellow Cab! If it's your first Uber ride, be sure to use the code "UberTheBruery" to receive $10 credit toward your first ride.
What is the refund policy?
The event is rain or shine, no refunds or transferring of tickets, no exceptions!
Where should I stay in Anaheim?
To find the best accommodations, please visit: http://anaheimoc.org/where-to-stay Note: The Bruery, The Boys and Girls Club of Santa Ana and The Phoenix Club staff reserve the right to refuse entry/access to the event to anyone who appears intoxicated, under the influence or is behaving in an inappropriate manner. Please drink responsibly and plan ahead for sober transportation.