Beers, Brats, & Burlesque At Lannies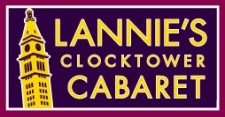 Kick off the Great American Beer Festival at Lannie's. You'll want to join us for a fun night of beer, free hot brats and even hotter burlesque!
Boulder's very own Avery Brewery will guide you through a full selection of their beers, from light, refreshing favorites to deep dark masterpieces. You'll sample their full range of beer craftsmanship. They will educate and inform you of their brewing process and beer methodology.
In between rounds of ale, the Clocktower Clockettes will delight and amuse you with fun, flirty burlesque dancing and off-the-cuff comedy. Our lovely ladies will pay tribute to the biggest Beer Festival in North America.
There will be hot brats, drinking songs a'plenty, and a few audience giveaways for the brave of heart.
Open seating, please arrive promptly at 7:00pm
$30 Ticket includes: nine tastes of beer, a bevy of burlesque dancers, and food! Must be 21 and up.
Lannies Clocktower Cabaret, 1601 Arapahoe Street, Denver, Colorado, 80202