Beer Collaboration Project Opens Cleveland Beer Week 2012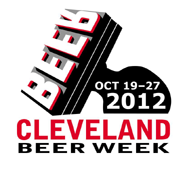 Cleveland, OH – The fourth annual CLEVELAND BEER WEEK will open with "Collaboration Kickoffs" on Friday, October 19 from 7-10 p.m. Six collaboration beers will be featured at area retailers in each of five neighborhoods including East 4th, Lakewood, Tremont, Ohio City, and Coventry.
The small-batch collaboration beers, brewed specifically for and exclusive to CLEVELAND BEER WEEK, were created by 15 northeast Ohio breweries. They will only be available together on draft at the "Collaboration Kickoffs" and singularly in limited supply at brewery locations. Brewers and brewery representatives will be attending the "Collaboration Kickoffs" to meet with patrons and showcase their beers.
The collaboration project was organized over the past few months by brewer Jack Kephart of The Brew Kettle Production Works and brewer Luke Purcell of Great Lakes Brewing Company. "Area breweries are heavily involved in Cleveland Beer Week, and we wanted to do something special for this year's celebration," states Kephart. Adds Purcell, "We all work well together and enjoy the creativity that comes from collaboration."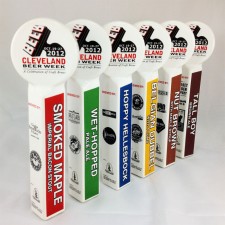 Chrislan Ceramics of Canada created custom tap handles for the collaboration beers and donated them to CLEVELAND BEER WEEK. The tap handles will be used by all retail locations featuring collaboration beers for the "Collaboration Kickoffs."
The collaboration beers include:
Great Lakes and Cellar Rats: Wet-Hopped Pale Ale
Market Garden, Rocky River Brewing and Indigo Imp: Tallboy, a wet-hopped brown ale
Brew Kettle and Willoughby Brewing: Reinheits Kaput!, a hoppy hellesbock
Buckeye Brewing, Ohio Brewing and Black Box: Nut Brown Ale with Maple Syrup
Fat Heads and Chardon BrewWorks: CuyaHawga Smoked Maple Bacon Stout
Thirsty Dog, Cornerstone Brewing, and Lager Heads: Belgian Style Dubble with Plums
The neighborhoods and retailers include:
TREMONT
Southside: Fat Heads/Chardon AND Market Garden/Rocky River/Indigo Imp
Treehouse: Brew Kettle/Willoughby
Edison's Pub: Buckeye/Ohio/Black Box
Flying Monkey: Great Lakes/Cellar Rats
Fat Cats: Thirsty Dog/Cornerstone/Lager Heads
LAKEWOOD:
Winking Lizard: Thirsty Dog/Cornerstone/Lagerheads AND Market Garden/Rocky River/Indigo Imp
Degans: Fat Heads/Chardon
Merry Arts: Great Lakes/Cellar Rats
Rozi's: Brew Kettle/Willoughby
Jammy Buggars: Buckeye/Ohio/Black Box
EAST 4TH STREET
Winking Lizard: Fat Heads/Chardon AND Market Garden/Rocky River/Indigo Imp
City Tap: Brew Kettle/Willoughby
Pickwick and Frolic/Hilarities: Thirsty Dog/Cornerstone/Lagerheads
Corner Alley: Great Lakes/Cellar Rats
Lincoln Taphouse: Buckeye/Ohio/Black Box
OHIO CITY
Market Garden: Market Garden/Rocky River/Indigo Imp AND Brew Kettle/Willoughby
Bier Market: Thirsty Dog/Cornerstone/Lager Heads
Great Lakes: Great Lakes/Cellar Rats
ABC Tavern: Buckeye/Ohio/Black Box
Nano Brew Cleveland: Fat Heads/Chardon
COVENTRY
Winking Lizard: Great Lakes/Cellar Rats
La Cave du Vin: Fat Heads/Chardon
Panini's: Brew Kettle/Willoughby AND Market Garden/Rocky River/Indigo Imp
B Side: Thirsty Dog/Cornerstone/Lager Heads AND Buckeye/Ohio/Black Box
Advance tickets for "Collaboration Kickoffs" are required at $25/person. Included are 10 ounce samples of all collaborative beers across retail locations in the chosen neighborhood. Patrons will receive a passport at their chosen neighborhood's starting location and then proceed on foot to other neighborhood retailers to sample the collaboration beers. "Collaboration Kickoffs" is sponsored by Cleveland SCENE. All proceeds benefit the Malone Scholarship Fund. For additional information and tickets, visit www.clevelandbeerweek.org – @clevelandbeerwk – facebook