4th Annual Brew At The Zoo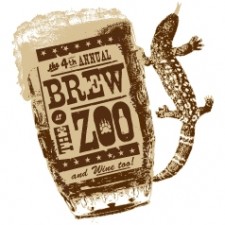 How do you Brew? (OK, maybe that's rhetorical.) If you like sampling beer and wine at one of Atlanta's wildest (literally) outdoor destinations, then Brew at the Zoo is the event for you!
Tickets include Zoo admission, plus unlimited sampling of a variety of beers and wines; up-close-and-personal encounters with our animals; free rides on the train and carousel; music and so much more.
Saturday, May 28, 2011
5:30 p.m. to 9:30 p.m.
Here's just a taste of what to expect …
Beer: Highlights include Leinenkugel's (specialty craft beer creators since 1867!); Terrapin (hop, hop hurray for a Georgia tradition; extra credit for the animal name); SweetWater (a stellar slate of species native to Atlanta); and Crispin Ciders (you know what they say about an apple a day).
Animals: (Alternate dictionary translation: the envy of every other beer festival in Atlanta.) Hang with giant pandas (drinking beer won't make them cuter – they're born that way); the nation's largest collection of gorillas (please don't try to beat your own chest); naked mole rats (hat's right, full nudity); the World of Reptiles (air-conditioned home of some of the rare creatures your tickets are supporting, learn more here.)
Entertainment: Animal encounter shows (it's not like clapping for Tinkerbell – these guys are stars!); free train and carousel rides (for the kid in you); AND live (as opposed to dead?) music featuring: The Superions in a live DJ set with deejay Fred Schneider of the B-52s.
This event is for guests ages 21 and up only; guests under 21 will not be admitted.
This event is rain or shine.
Tickets:
$35 advance tickets for Members
$40 advance tickets for non-Members
$45 day of (Member and non-Member)
For more information and to purchase tickets, please visit www.zooatlanta.org/brew