2nd Annual Belgian Beer Fest At Library Alehouse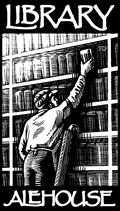 It's that time of year again at the Alehouse. Gnomes, monks and beers that come with gold-rimmed glassware and names you can't pronounce. Library Alehouse Belgian Beer Fest returns for another year of yeast- driven excellence! Tripels, Quadrupels, Sours, Belgian IPA's and plenty of others that defy categorization. No less than 10 handles and 40 kegs of Belgian and Belgian-Style beer will be all yours to sample and enjoy from April 25th through May 5th!
In addition to this embarrassment of fermented riches, cuisine à la bière will be invading the Alehouse menu. Carbonnade Flamande will make an appearance, we'll feature new treatments of our popular Moules Frites and we'll have a few more tricks up our sleeves, so stay tuned!
We're excited to announce that another Belgian Beer Dinner with the infamous Larry James of Wine Warehouse is in the works. Save the Date.. May 4th, 6 PM. Menu to follow soon!
Kickoff Event with Duvel Moortgat April 25th 6PM
In addition to the plethora of beers from the Duvel Moortgat portfolio we will be featuring the special release collaboration from Ommegang and La Chouffe, appropriately titled "Gnomegang" as well as the limited, Ommegang Chocolate Indulgence.
That night, you can also purchase a glass of Duvel Green for $10, keep the glass, and refill it with Duvel Green for only $7 per pour for the life of the fest!
For you early birds, we will be giving away a limited number of Chouffe caps, bells and all. In addition, we'll be raffling off a prize pack that includes a six-pack of Duvel glassware, a Chouffe Gnome Statuette, the famous La Chouffe Gnome Hat, a brewery flag and a classy tin tack-up. Tickets will be $10 a piece with all proceeds going to Japan relief.
So whether you're a Belgian enthusiast or merely looking to acquaint yourself with one of the most creative brewing cultures in the world, you'll want to come to the Alehouse!
For more information and updates, including a full beer list, events and Belgian Beer Dinner menu, watch our facebook page at www.facebook.com/libraryalehouse and follow us on twitter at www.twitter.com/libraryalehouse.
The Library Alehouse is a true public house, Santa Monica-style, featuring an ever-changing variety of over 29 craft beers on draft, as well as many hard-to-find bottled beers from around the world. Library Alehouse also features a wide variety of appetizers, salads, soups, sandwiches and entrees. The Library Alehouse supports a number of non-profit organizations by donating 15% of sales from the last Tuesday of every month. The Library Alehouse is located at 2911 Main St. in Santa Monica. Hours of operation are 11:30 a.m. to midnight seven days a week and the restaurant is available for private parties and offers catering.