2015 Founders Fest – A Celebration of Beer & Music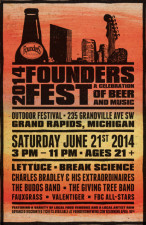 Grand Rapids, MI – Founders Fest is Founders Brewing Co.'s biggest party of the year, a street-side celebration of everything we love and all that makes Founders what it is today: some of the world's greatest beer, incredible live music, killer grub from local favorites, and wearables and shareables from some of the area's finest artisans. Founders Fest is an Ages 21+, all-day, outdoor event, and takes place on the streets surrounding the brewery, under the sun and the beautiful blue hue of the June sky.
This year's musical acts include:
Founders Fest takes place from 3pm – 11pm, and is a ticketed, strictly 21+ event. Re-entry will only be permitted as capacity allows.
2015 promises to be another great event! Two stages will highlight musical entertainment, two beer tents will have all of your Founders favorites flowing all day long, along with some rare specialties and some brewed just for the event!
Roving entertainers and buskers will keep you laughing and in awestricken, bedazzled wonderment at their talents and showmanship. A wider variety of local food vendors will be serving up their sizzling, signature specialties to 'feed' your cravings.
Additionally, an expansive 'Artist's Row' will showcase the wares of some of the finest local artists, and both Founders Fest and featured band merchandise will be available for purchase!
Here are some more organized, bulleted details:
What: Founders Fest 2015: A Celebration of Beer and Music. Our biggest party of the year, and a celebration in the community that has made us what we are today.  Strictly Ages 21+ Only.
When: Saturday, June 20, 2015 from 3pm – 11pm.
Where: The streets surrounding Founders Brewing Company, located at 235 Grandville Avenue SW. Entry gates will be located at the north end of the festival grounds, near the intersection of Grandville and Cherry Street.
Note: The Brewery, including the Tap Room, Deli, Centennial Room, and Company Store will all be closed to the public the entire day, as this event is entirely outdoors.
I'm hungry: A wide variety of local food vendors will be on hand serving up delicious and diverse food offerings, including vegetarian options!
I'm thirsty: Many of your Founders Favorites as well as quite-a-few surprises and n/a beverages will be available in our massive beer tents. Tickets are required for all beverage purchases, and can be procured at various locations about the festival grounds. We will also have water stations for the usage of festivalgoers and to lower the consumption of bottled water. We will not be filling growlers at the festival.
Note: Founders Fest is a 'green festival'. Please help us in our efforts to make a minimal environmental impact! Recycle what can be recycled, compost what can be composted, and trash what you must. A clean, green festival is a cool, happy festival! We've again partnered with our friends at the High Five Program and their Green Team with the goal of 90% waste diversion.
More info:  http://foundersbrewing.com/taproom-events/founders-fest-2015/
The Rules:
All ticket sales are FINAL.  No refunds will be offered, however, tickets are transferable
Strictly Ages 21+ only
No outside food or beverage
No glass or growlers of any kind
No pets (licensed service dogs OK with proof)
No fireworks
No illegal substances
No weapons
No bad attitudes
Re-entry is NOT guaranteed, and is only permitted as capacity allows
Empty (non-glass) containers for water, or sealed (non-glass) bottles of water are OK
By use of this ticket, the ticket purchaser/holder ("Holder") agrees that Founders Brewing Company shall have the unrestricted right and license to use the Holder's image, likeness, name, voice, comments or other proprietary or public rights in any broadcast, telecast or photograph and/or video and/or audio sound recording taken in connection with the event or other transmission or reproduction in whole or in part of the event, for all purposes, without compensation.
Order of Performances:
Organissimo
Devin & The Dead Frets
Billy Strings & Don Julin
FBC All-Stars
Elephant Revival
Gringo Star
Nahko and Medicine for the People
Dirty Dozen Brass Band
www.foundersbrewing.com – @FoundersBrewing – Facebook