The Craft Beer Hype Cycle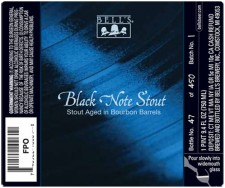 In the depths of the craft beer nerdery, there are people in a rabid like frenzy for two beers this week: Pliny The Younger and Bell's Black Note.  I'm not going to dismiss the greatness of either beer, especially with first hand knowledge of exactly how tasty Pliny is.  With that said, I know not everyone is as fortunate as The Full Pint, in getting a crack at some of these harder to get brews. While we can't help you get them (short of posting local events featuring these beers), we can shed some light on the craft beer hype cycle, and much like those in line to marry Jennifer Lopez, if you are patient, you might get your turn.
Example 1: Deschutes Abyss: In 2007/2008, the trade boards were flooded with folks in search of The Abyss Imperial Stout. The scores and ratings for this beer were through the roof. If the beer ever wound up in California, you were lucky to A) find it and B) get it for something close to retail price. Then 2009 came, and about 6 months after it's release, some might say sooner, that batch was found to have an infection, and the hype for one of the most popular beers died down. 2010 was fixed back to perfection and 2011 had slight tweaks in the recipe to take it to the next level. You'd be hard pressed to find a single ISO thread for this beer, and I can stroll down to most finer liquor stores here in CA and pluck an Abyss right off the shelf 6 months to a year after it's release.  Is the beer any less tasty than it was in 2007? It could be even tastier, but rare/hyped it is not.
Example 2: Ballast Point Sculpin IPA: When this beer hit the scene in 2007, people when absolutely nuts. Even by West Coast IPA standards, this was one of the driest, hoppiest IPAs this side of Blind Pig IPA. Bars couldn't keep it on tap long enough, if you wanted 22 oz. bombers, you'd have to go to San Diego, or to a liquor store that smuggled it up from San Diego.  For a good while, you could name your trade with a few bombers of Sculpin.  Since late 2009/early 2010, Ballast Point has ramped up their Sculpin production to where you can buy 22 oz. bombers or 6 packs in most CA markets, select markets outside of CA, and even 5 gallon kegs at the brewery. The only time Sculpin gets a mention by the nerds is when they pine over yesteryears batches, or complain about lack of bottle dating. In my opinion, the beer is just as great as it was then, just not hard to get. So there is nothing stopping you from enjoying this groundbreaking beer.
Example 3: The Bruery Black Tuesday: 3 years ago, a startup brewery released an 18% Barrel Aged Imperial Stout, with a half mile long line out of their industrial parkway. Fans were turned away, ratings came in near perfect, and everyone and their mom didn't WANT to get their hands on this beer, they NEEDED to get their hands on this beer.  Coinciding with the eBay gray market boom, if you weren't lucky and local enough to get some BT, you were looking at dropping around $100.00 a bottle to get some of this. I'm not ashamed to tell you I traded most of my BT, as it was trading gold for the past two years. Fast forward to 2011, and it's a completely different game. Reserve Society Members got a crack at 6 bottles each,about 200 locals got a crack at 3 a piece, the Bruery's shop, Provisions held a charity type sale, and at least as of late, you could get a generous poor of it at either of their locations.  What's my point?  It's probably way more likely for you to get your hands on this beer if you want. By my observations, it will probably be on your shelf for 2012.  Now don't you feel silly for paying all that money on eBay?
So, lets take another look at Pliny The Younger, easily the most hyped beer for the past 5 years or so.  I don't see it getting bottled, or ever being ramped up in the same way Sculpin IPA was, Russian River has increased production and subsequent availability of all their beer in the last 3 years.  Bars that weren't on the list to hold their own Pliny the Younger day are now getting their chance. I'm hoping in the next few years, if this boom levels out a bit, that people won't feel inclined to hop a $400 flight to Santa Rosa for a fucking double(triple) IPA. Hopefully it makes it to every hot metropolitan beer bar. As tasty as PTY is, it's not worth a round trip flight across the country, at least not to me.
As a quick analysis on Black Note, I would say it's value is a bit inflated at the moment.  I'll never argue that the cost of barrel aging an Imperial Stout is not as economical as a pale ale, Bell's Brewery isn't a small operation.  Much like Deschutes, Port Brewing, Founders, New Holland, Allagash and even Russian River, they will be able to make enough of their Barrel Aged beer to put it on the shelf for many of us to enjoy. That is, if they want to.
The point? Be patient, let the hype die down, which by my math, will happen.