A Plan of Attack for Stone Winter Storm 2012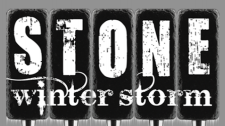 Stone Brewing Co.'s Winter Storm (begins Feb. 5) is rapidly approaching. For those not familiar with Winter Storm, it's  chance to try everything Stone has ever made over the past 10 or more years.  With the average Stone ale being around the 8% abv. mark, running head first into this week long celebration is not advised.  Through trial and error, Dan has come up with the right strategy for attacking this tasty feat whether you are a Stone Newbie, Journeyman or Veteran.
For The Stone Newbie
So you are well versed in Arrogant Bastard Ale, you were introduced to Old Guardian, Double Bastard and Stone Imperial Russian Stout, so you are stoked to go try the other 50 offerings on the tap and bottle list. Slow down a second!  Of all the beers you have recently tried from Stone, which one did you like the most?  You can get to know that beer even better, and you will be able to tell if it's something you might want to start saving at home in your private stash.  Here's my recommendation for you to you:
Take four-ounce serving flights of the following (b= bottle, t = tap): 2002 Stone Imperial Russian Stout t, 2007 Stone Imperial Russian Stout b,2009 Stone Imperial Russian Stout b, 2011 Stone Imperial Russian Stout b, and 2008 Stone Imperial Russian Stout 2008 Aged In Bourbon Barrels t.  Start with the newest to the oldest, and cap it off with the barrel aged version. Right there is 20 oz. give or take of 10% black ale goodness.
In the same vein, treat yourself to a Double Bastard flight, to see how this beer develops over time, keeping each serving at no more than 4 oz.: 2007 Double Bastard Ale b, 2009 Double Bastard Ale b, 2011 Double Bastard t, and 2006 Double Bastard Aged in Brandy Barrels t.
If you made it through both of those flights, your tongue is probably shot, but you should be warm and smiling by now.  Cleanse your palette with some Saison Du Buff b or La Citrueille Céleste de Citracado t.  If you can, come back in a few days to check off the rest of the stuff you had your eye on, but didn't have the sea legs for.
For The Stone Journeyman
You are more than familiar with Double Bastard from year to year, and same goes for Old Guardian or IRS. Time to cross off all the hard to get beers that you've been dying to try. If you have tried all of the following, you are probably in the Stone Veteran Category, you can move along to the next part.  I'd suggest the smallest size portion the bar will allow, which will allow for more tastes, or if you are in a group, pass it around the table.
Here we go:  Stone 15th Anniversary Escondidian Imperial Black IPA w/ Espresso Beans, Stone 12th Anniversary Bitter Chocolate Oatmeal Stout aged in Bourbon Barrels,2006 Double Bastard Ale aged in Brandy Barrels, StoneWall Ale, Crime, Punishment, SoCal Hop Salute Black Double IPA, Stone Ruination IPA Double Dry Hopped with Calypso Hops,Jolly Pumpkin Collababeire and 11.11.11 on cask. You are a bad man or woman if you have tried all of these.
For the Stone Veteran/ OG 
"Ha, I have Brandy Barrel Aged Double Bastard coming out of my faucet, this is all very pedestrian to me."  But man, you still love Stone and instinctively want to head down to Winter Storm, it's something you've done for years now, and has a special place in your heart. Here is what I would do if I was a real Stone OG.
Side by side tastings: Stone Smoked Porter next to Stone Smoked Porter with Vanilla Beans next to Stone Smoked Porter with Chipotle, Stone Sublimely Self-Righteous Ale next to Stone 15th Anniversary Escondidan Black IPA, a pepper flight with Crime, Punishment,11.11.11 and Stone Smoke Porter with Chipotle, 2002 IRS next to 2011 IRS, and a three-way with Jolly Pumpkin / Nøgne-Ø / Stone Special Holiday Ale 1, 2 and Jolly Pumpkin Collababeire. This will be fun. You don't have to worry about ticking, or untapping, just enjoying the flavor development of some classic beer.
We hope you find this guide helpful, and that you will remember that just as important as drinking your way through Stone's archives is staying safe. Keep hydrated, grab some food, and don't hurry off too quick after indulging.
Click here for the entire tap and bottle list for Stone Winter Storm 2012.
Click here to get first crack at the rare gems being presented at Stone Winter Storm (known as The Calm Before the Storm)