The 10 Dankest Beers Revisited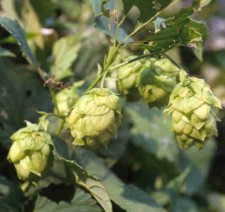 Two years ago, I listed out 10 of the dankest beers, comprised of many of my favorite IPAs and Double IPAs.   If you aren't hip to what I'm talking about, several craft brewers have been making over the top, aromatic IPAs and Double IPAs may remind you of some fresh bud. Since that piece, many more brewers have tried and succeeded in this arena, so we'd like to comprise another list celebrating the dankest of the dank. Hoppy Holidaze!
1. The Alchemist Heady Topper – This beer wasn't on my radar two years ago, but is now all the rage for a true IPA aficionado.  Brewed and canned by The Alchemist in Waterbury, VT, an hour doesn't go by when someone isn't trying to trade for this on RateBeer or BA.  The brewers are a little embarrassed about how cloudy the beer is, so they suggest drinking it right from the can. When smelling it from EVEN the can, it smells like some good bud, to give you an idea of how aromatic it is. When pouring it into a glass, it's on a whole nother level.  We haven't talked with anyone at the Alchemist, but we'd like to guess Heady Topper is referring to something smokeable.
2. Green Flash Palate Wrecker – Green Flash has been pumping out the dank hoppy hits since way back in the day.  West Coast IPA, Imperial IPA, Hop Head Red are undeniably danky, but what was once a small batch treasure in San Diego is now in distribution. I'm talking about Green Flash Palate Wrecker.  This beer is over flowing with citrus and pine aromas, blasting your face as if you opened up a fresh jar of green goodness.  You'd think it couldn't get any danker after smelling it, but tasting it is the closest thing to eating hops as you will get.
3. Maine Beer Co. – Mo – I'll admit it, I'm a west coast IPA beer snob.  Before I take the first sip of any IPA or Pale Ale made east the CA border gets unfairly scrutinized by me (sometimes). I know it's not fair, but as some of you may know, there was a time when Dogfish Head was the east coast IPA king.  All of a sudden came Maine Beer Co.  came on the scene, and as a bonus beer, I got a bottle of Peeper.  I was immediately blown away by how beautiful and hoppy that beer was.  Then I got my hands on Lunch IPA. Amazing, hoppy, aromatic.  A few weeks ago, a new offering called Mo arrived.  Put that bad boy in a glass, and was immediately impressed with how citrusy and amazing this beer was.  This was a dank beer made up in the often cold city of Portland, ME.  Very very impressed to say the least.
4. Lagunitas Sucks – Sucks is code for  an affordable, hoppy dank ass beer, that dare I say, is way better than Brown Shugga.  Lagunitas doesn't call this an IPA, but it's fairly similar to an amazing West Coast IPA with tropical fruit, resinous pine and citrus. Word from Lagunitas is this will be put on the shelf year round, so look out for that.
5. Oskar Blues GUBNA DIPA – Sometimes overlooked because of cost, GUBNA IPA is the dankest in OB's Dank Pale Lineup.  Dales Pale and Deviant Dale's are super aromatic, floral, citrusy,etc but GUBNA tops them all with a strong grapefruit blast to your beak.  The beer is massively bitter and resinous on the palate as well.
6. Three Floyds Dreadnaught DIPA – Older than all  of the beers on this list, Three Floyds nailed the dank Double IPA a long time ago with Dreadnaught IPA.  The malt bill is  as massive as the hop bill, but when fresh, there might not be a danker Double IPA.
7. Sixpoint Resin – Sixpoint all but spells out that this new beer is a tip of the hat to the ganj. It's called Resin, comes in a bright green can, and smells like a very piney kush.  While pretty malt heavy, when fresh, it smells like a pine forest and goes down bitter and sticky icky.
8. Alpine Nelson IPA – Picking a favorite Alpine IPA is like askin mamma to pick her favorite child. It's near impossible, and often times you'll have to lie your way through it.  Like most beers utilizing the amazingly tropical Nelson Sauvin hop, this beer is bursting with tropical fruit. This would be ranked higher if I didn't have to work so hard to get it, it's truly a danktastic IPA.
9. Drakes Hopocolypse Double IPA – Drakes has been cranking out the hoppiest hits for the past few years (Denogganizer,Drakes Hopocolypse Black Label, 1500 Pale), and have really hit the mark with their seasonal, Hopocolyspe Double IPA.  When fresh, the hop aroma is over the top, with a great mixture of fruit and pine.  This didn't stay on the shelf for more than a week around here, so I suppose word has gotten out just how dank this beer is.
10. Evil Twin Disco Beer – For the same reason I don't buy fresh bread from Denmark, I don't buy IPA from Denmark. It just doesn't seem practical to get a fresh hoppy beer from half a world away.  Evil Twin Disco Beer had me change my line of reasoning.  After having a glass, I was blown away by how out of this world hoppy and aromatic this beer was, rivaling some of the best made in San Diego. Tropical, piney, lots of mango and citrus bombarding my nose. Later, I found it it had been blended with White Chardonay, which impressed me even further.  If you see it, pick one up, you will be impressed.