Dan's Strategy Guide to Stone Oakquinox 2012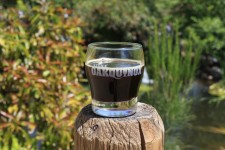 This Sunday will be Stone Oakquinox 2012.  While tickets are sold out, many lucky SoCalians who go their ticket in time will be headed down to Stone Brewing World Bistro and Gardens to get their barrel aged beer on.  I find this to be one the most challenging events to stay a float in, even more so than the unlimited pour type setups.  You got over 100 barrel aged beers, with a great deal of those beers being heavy in alcohol and super tasty at the same time. While you are only sampling 3 oz. pours at a time, the fun, excitement and high abv will hit you quicker than you think it would.
Keep in mind this is on Sunday and you may have work on Monday, so here is a little strategy on having a great time and not getting murdered by delicious woody beer.
Look over this list, and identify 2-3 beers you've been dying to try, but haven't been able to, whether it be because the beer isn't available in your town, or you didn't feel like clunking down a lot of money for the entire bottle. Here are my picks:
Firestone Walker 100% Bourbon Barrel Aged Velvet Merkin (Barely available anywhere, ever)
Kern River Class X Stout in Bourbon Barrels (See Above)
Sierra Nevada Knock on Wood Barrel Aged Hellraiser Chocolate Chili Stout (Because it sounds awesome)
So you may argue you aren't feeling it yet, but that's 9 oz. of big beer.  Get some water and a snack and reset your palate. No better way to do that than with 3 sours from this dope list.
3 Fonteinen Oude Geuze (A classic, and spotty availability)
Cascade Kriek Ale (Because its good and you don't have to buy a $20 bottle of it now)
Russian River Sanctification (It's on draft, and that's hard to come by, also sure to be delicious)
So now you aren't tuckered out, just puckered out. Have some more water, take a stroll around the gardens, try some of the food Stone is slangin outside, hopefully the famous Duck burritos. You are about to go big, so get yourself ready.
Pick out some fun side by sides or verticals. Here are some fun examples:
Deschutes Abyss 2009, 2010, 2011
FiftyFifty Eclipse (Pick any three)
The Bruery Oude Tart, Lost Abbey Red Poppy and Russian River Supplication
All the 2010 Stone Old Guardian Barrel Treatments
So you will probably be smiling, talking a little louder than you are used to, but you feel good, and considering all the monster beers you've sampled, you shouldn't be too groggy for work the next day.  If you have a few extra tickets, don't worry about it, make a new friend and hand some out as you stroll to your taxi cab or passenger seat of your car.
As my dad always said, live to drink beer another day, it isn't going anywhere anytime soon. See you there, cheers!
Click here for the official page for Stone Oakquinox 2012
Click here for more information on Stone Brewing World Bistro and Gardens