Price Isn't The Craziest Part of Russian River Brewing's Cellar Society Announcement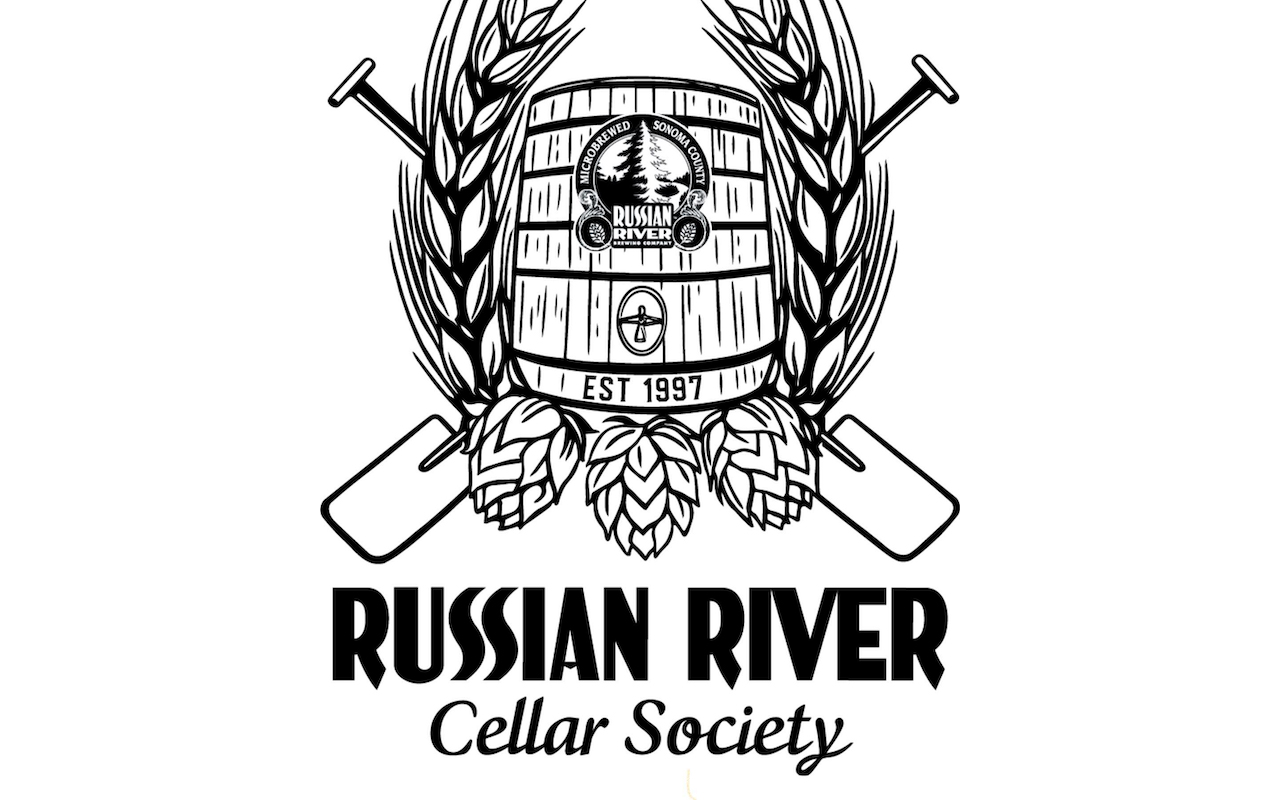 Absolutely nothing that happens this year and in the craft beer space will surprise or shock me. We are dealing with small businesses that have to make tough and thrifty decisions in order to stay in business and lessen the blow that COVID-19 has taken on every brewery large and small. With this unexpected disruption, we've seen some pretty clever moves to keep the money and beer flowing. The greatest move from the consumer's perspective has been shipping and delivery of some of the freshest, most tasty beer.
Prior to the pandemic, Russian River Brewing has sat on their throne as the royal family of craft beer. If you wanted their most coveted beers, you'd have to go to them. If you wanted to carry their best hoppy ales, you needed to get on the list and then be vetted as a worthy retailer. If you wanted to buy their hoppy ales at a bottle shop deemed worthy of Russian River, you'd pay upwards of $5 more per pint compared to the majority of the competition's offerings. Arguments have been made for years that there are better, cheaper options on the shelf, but I would concede that Russian River is still on an elite level, and while maybe not affordable as a daily driver, they are worthy of an occasion or a treat.
Yesterday, Russian River Brewing dropped a pretty big announcement on their social media channels, the introduction to their "Russian River Brewing's Cellar Society." At a far glance, it would appear that the godparents of rare and coveted beer have now jumped into the fray along with the likes of The Bruery, Modern Times, The Rare Barrel, The Lost Abbey and a host of other breweries that have relied on a membership club as a channel of revenue. Jumped into the fray over 10 years after everyone else did, mind you.
While there is a good portion of the country out of work, there are plenty of folks still employed and complying with C-19 based stay-at-home orders. Extra time to drink at home plus disposable income has made for many splurges, and Russian River's Cellar Society at $450 + tax (CA sales tax is 7.25%) seems like low hanging fruit for these particular beer customers.  In Russian River's announcement, they listed the following items included in this membership club: Two releases of twelve (12) limited-production barrel-aged beers, handcrafted by Vinnie Cilurzo. 24 rare beers in total. Here is Russian River's post from Facebook:
"Introducing the NEW Russian River Cellar Society, our first ever bottle society, aka "beer club"! Vinnie rekindled his passion for creating and blending barrel-aged sour beers this year which inspired the launching of this club. Since this is brand new to us, we will be limiting membership to 300 for the first year, likely expanding it in future years. Membership includes two 12-bottle releases of rare beers, most of which will be exclusive to members, along with other perks! Sign up for the random draw for membership between NOON PST 12/10 and NOON PST 12/11. A computer generated random selection will occur at 5PM PST on 12/12.

Download the Oznr app for iOS or Android and create an account (or login with an existing account) for more information regarding the Russian River Cellar Society along with terms and conditions."
Rage ensued as there were more questions than answers. Luckily a fine citizen posted a link on the Facebook post to Russian River's official website for this new club: http://russianriverbrewing.com/cellar-society/
Here more accurately describes what you will get for your nearly $500.00.
Membership Cost:  $450 +tax +shipping (if applicable, shipping available to California addresses only). Membership fee is a single payment due at time of enrollment. Any necessary shipping fees will be charged to the card on file at the time of shipping.

Membership Beer: 24 limited-release barrel aged beers, mostly member-exclusive. Most of the bottles included in the allocations will be 17.25 oz (510mL) with the occasional 12.68oz (375mL) bottles. Most shipments will contain six (6) different beers, and will always be a total of twelve (12) bottles per allocation.  *Some allocations may be slightly more or less than 6 different beers, depending on availability.

Allocation: 12 bottles shipped 2x/year. 24 bottles in total.

Member Benefits:

Access to several exciting member-exclusive beers.
Ability to purchase additional (surplus) member bottles at discounted member price before they go on sale to the general public, should we decide to make them available. Discounted price will always ONLY available to active members.
Member Exclusive Discount – 10% discount applies to packaged beer to-go (cans, bottles & growlers) and merchandise, online and in the gift shop. **Some exclusions may apply.
Member receives happy hour pricing on draft beer at both pub locations (applies to member only – some beers may be excluded).
Two (2) "2021 Russian River Cellar Society Charter Member" logo glasses.
Access to Virtual Events and Tastings with Vinnie & Natalie.
First right to renew membership for the following year before openings are made available to the general public. Renewal is, of course, optional.
As of this writing, The Bruery Reserve Society and Modern Times League of Partygoers and Elegant People and are the two most well ran craft beer memberships. I say this from experience and their respective reputation. They have a reputation for running great clubs as they are able to crank out new beers at a premium price and sell them largely before they even try them, all while providing world class customer service. Anyone who has visited a beer message board or Facebook beer group can tell you first-hand that some of these "society members" are the most entitled consumers in the world. While they are able to drop some good coin on mystery beers, one flub or slip-up in sales and service causes quite the commotion.
While some might be shocked at a club that gets you 24 beers at nearly $20 a bottle, the price is not the craziest part about this announcement. It would appear that Russian River Brewing is under the pressure to keep revenue coming in as planned and to remain true to their exclusivity framework, now is the time to do what many young hip breweries are doing, and selling that exclusivity in order to get cash upfront from their most loyal customers.
We will likely never know if this effort from Russian River was well thought out and planned or not, but it would seem that this was a decision made in haste and is riddled troublesome signs that make the $20 bottles of beer the least crazy part of all of this.
Russian River Brewing's Cellar Society Branding
The easiest possible name Russian River could have gone with would be Cellar Society. Since The Bruery started using the term with The Reserve Society, Preservation Society and the chuckle-inducing Hoarder's Society, selling a product or service with 'society' signals a bottle club membership. While the name showed a lack of creativity, the biggest "yikes" for me was the logo presented on their Facebook page and website. The logo looks like something made with The Print Shop 1.0 on a Macintosh LC II. Russian River has been lovingly teased for years for their Comic Sans styling, but this is objectively really bad. With $135,000 coming in shortly (300 members times by $450), Russian River could have hired a freelancer to create a logo and some other digital assets worthy of a $450 a year membership. The logo says either "we didn't have time to get a good one" or simply "we didn't care."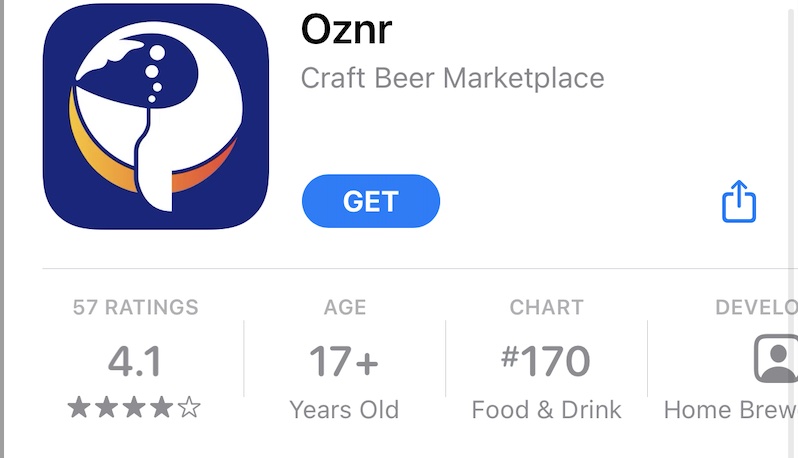 The OZNR App
Ummm what? It appears that Russian River Brewing is using a startup company's app to provide e-commerce. The company that owns/manages this OZNR app is Homebrewed Tech LLC out of Atlanta, GA. Some would consider this company a mom-and-pop shop based on findings from a Google search. Many moons ago in craft beer years, Lost Abbey tried supporting a small local ecommerce provider named Nexternal. It didn't go so well, and unfortunately this is what comes to mind. If this goes smoothly, this will make quite the name for Homebrewed Tech. If it goes poorly, this will make this the first and last year for this membership club. It looks like Creature Comforts in Athens, GA may use this app, but they don't have as much on the line as this high-profile club.
EDIT: We have been informed that this isn't just any startup, but a startup that has been acquired by Next Glass, the parent company to Untappd and BeerAdvocate. Press release: https://www.beeradvocate.com/community/threads/next-glass-acquires-craft-beverage-technology-solution-oznr-formerly-craftcellr.648606/
The offerings
Without hesitation, I would list Russian River as one of the top three barrel-aged sour ale producers in America and in the top five or 10 in the world. Their bottles have been fairly priced for such a high-quality finished product. They are simply heavenly. It's difficult for me to understand if there will be 24 unique, member-only barrel-aged beers, but here is an interesting blurb from the official site "Membership Beer: 24 limited-release barrel aged beers, mostly member-exclusive. Most of the bottles included in the allocations will be 17.25 oz (510mL) with the occasional 12.68oz (375mL) bottles." Mostly exclusive, maybe 510 ml are more red flags for me. As The Rare Barrel and Sante Adairius will attest to, an all-sour program just isn't sustainable in present times and without mention of a barrel-aged stout, porter or barleywine, it would appear Russian River is selling a largely sour-centric membership.
Botched messaging
You will get three slightly different messages depending on where you read about Russian River Brewing's Cellar Society. The initial Facebook message had enough to bring out the angry and entitled, which did not reference the website. Then today, Russian River posted a "slide feed" post on Instagram with a lot of info missing from the initial post yesterday. That post references website and email links users cannot even click because they are pictures on Instagram. Besides these graphics referencing unclickable links, you would need a white board to make a flow chart of the information they are trying to provide. It's maddening. The website, for those that aren't into social media, isn't aligned with what was presented on Instagram, which was also shared to Russian River's Facebook. Do you have this all clear?
Predictions?
Despite this being one of the most botched campaigns of the year, it will likely sell out. There are people that love Russian River beer and plenty of opportunists hedging on the fact this club will provide stock for trades and secondary sales. Russian River Brewing would be best served to pay for seasoned social media marketing and a consultant on beer society membership operations. As it stands, pop some popcorn and tune in to Russian River's social media on 12/10, you will be in for a show.