#IPADay – Guide to IPAs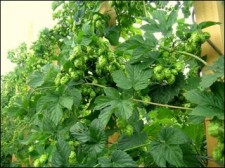 It's a glorious day for hop heads today, as we celebrate #IPADay here online.  With  many great IPAs to pick all over the map, we wanted to give you a quick run down of amazing IPAs you should be toasting with today.
We've kept availability in mind when going down this hopolicious list.  Cheers!
Stone Ruination IPA – This abrasive, aggressive IPA can be found in many states, and in select gray markets all over the world.  Want to make your dads face curl up from bitterness, give him a sip of this beer today.
Ithaca Flower Power IPA – Who says the west coast owns the IPA? Ithaca Beer Co in New York makes a wonderfully hoppy IPA that would hold it's own in a blind California taste test.
Dogfish 60 Minute IPA – One of the more balanced IPAs on this list, you will surely get acquainted with some of the other nuances of the hop outside of blatant bitterness.  This flagship beer from DFH can be found in many places in bottle and on tap.
SweetWater IPA – A very East Coast-ish IPA with a great amount of hops, and very drinkable. This beer was voted best IPA by the Atlanta Journal.
Surly Furious – On the darker side of pale, this west coast style IPA is made in Minnesota, and dated on the bottom of its can for freshness.  Amazing.
Firestone Walker Union Jack – The judges at the Great American Beer Festival will tell you every year, this is the best IPA there is. It's hard to argue. One of the clearest bodies I've ever seen on an IPA would fool you, this beer packs tons of flavor and bitterness. Now that FSW has expanded, you might be able to treat yourself to this TODAY.
Big Sky IPA – While the body on this gal is red, Big Sky IPA is close to a west coast IPA, but has a wonderful balance of toffee like malt to even out the IBU assault. I passed over this beer many times, as it doesn't have a reputation, good or bad, but once I finally tried it, I was very impressed.
Ballast Point Sculpin – Another beer thats slowly creeping to many states in the US, this is an IPA like none other. It's very dry, very floral, and super danky and hoppy.  If you can get this fresh, you will be in heaven.
Russian River Blind Pig IPA – Unfortunately, this will be hard to come by outside of California, this is the most refined west coast IPA there is. With a bone dry malt profile, the fresh hops really shine in this beer. This is an IPA you graduate to after you've tried all other IPAs and find your sweet spot.
Follow this link for all of The Full Pint's IPA Reviews. We love many more IPAs than just this quick list.