A Look Back at 2011 Part 9 – Russian River, Heretic, Moylans, 21st Amendment and Lagunitas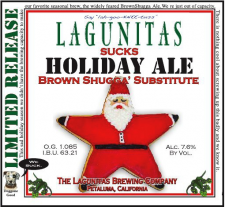 Dan recaps some memorable moments in the craft beer year of 2011 by running down some milestones from the likes of  NorCal  players Russian River, Heretic Brewing, Moylan's, 21st Amendment Brewing and Lagunitas .Cheers!
Russian River Brewing – Russian River is still playing the hits each and everyday, and stay out of the news with the exception of once or twice a year. While RR tried to curtail it's Pliny The Younger hype by limiting times it was poured, doing away with growler fills, and policing eBay auctions, they still had one of the noisiest small release releases of the year. Framboise for a Cure returned with a slightly different recipe, and the year was ended with a NANO-RELEASE of Beatification Batch 4.
Heretic Brewing – World famous home brewer, Jamil Zainasheff went pro this year, and began Heretic Brewing. Because I'm not in that "scene", I've never gotten to try one of his competition recipes. Fast forward to GABF 2011, and I got to try Evil Cousin and Evil Twin, and knew right then and there why this man should make beer for a living. Heretic is available in California and a little bit of Iowa currently. Best of luck to them for 2012.
Moylans/Marin Brewing – Both Moylan's and Marin had fun making Black and Orange Congratulations Ale in honor of their MLB World Series Champion's, San Francisco Giants.  We've seen more creative, barrel aged variations of their heavy beers, and hope they make some room to bottle some of these treasures.
21st Amendment – 21st Amendment might arguably be one of the most in tune breweries as it relates to social media.  They partnered up this year with the Campbell group and got their name out farther and louder than ever before.  They gave their products a label face lift, they added a Black IPA, and made some of the most entertaining videos, including this one for Fireside Chat. So with this awesome marketing campaign, I'd like to see them get a production facility in San Francisco. I've noticed a difference between what they brew and serve in San Francisco versus what Cold Springs is producing for them.
Lagunitas – Lagunitas continued to please the crowd, and keeping their prices at the lowest in the craft sector. They are maxed out, and are scrambling to expand. Unfortunately, their custom made equipment got banged up on the journey at sea, and more adjustments had to be made quick. One action item on their list was to nix Brown Shugga for the season, as it takes longer to ferment and finish than say A TASTY DOUBLE IPA. Before the second cry baby on BA could say a thing, Lagunitas produced a TASTY DOUBLE IPA called Lagunitas Sucks Holiday Ale Brown Shugga Replacement, and writing up a tongue in cheek press release crucifying themselves for the mishap.
Click here for Part 1
Click here for Part 2
Click here for Part 3
Click here for Part 4
Click here for Part 5
Click here for Part 6
Click here for Part 7
Click here for Part 8
Click here for Part 10
We will continue to recap the year in craft brew until the ball drops, so stay tuned loyal readers. Cheers!