A Look Back at 2011 Part 8 – Odell, New Belgium, Left Hand, Uinta and Epic Brewing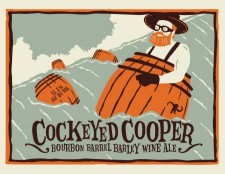 Dan recaps some memorable moments in the craft beer year of 2011 by running down some milestones from the likes of  east of the Mississippi  players Odell Brewing, New Belgium Brewing, Left Hand Brewing,  Uinta Brewing  as well as Epic Brewing .Cheers!
Odell Brewing – While still not distributed in the far west, Odell is making the best of their recent expansion by pumping out their flagship brands as well as some amazing beers in their 750 ml series. This year, they continued their Woodcut series with a wood aged Quadruple, and are slowly spreading their wild ale/sour ale wings with Hiveranno.
New Belgium Brewing – More so than previous years, New Belgium kicked it into high gear with their Lips of Faith Series. People always have to remember, the Fat Tire draft accounts are what's giving these brewing geniuses money to invent, create and experiment with the Lips series. While I haven't enjoyed 100% of those beers, they are fun to try, and it's great to be part of genuine creativity in a market dictating Black IPAs and Imperial Stouts all the time. While 2009 and 2010 saw new states getting their NB fix, 2011 was quiet on that front. I expect the expansion press releases to be a plenty in 2012.
Left Hand Brewing – Left Hand worked on a very impressive product this year, called Milk Stout Nitro.  Many folks are introduced to Guinness as their first "good beer", however as us American's get smarter, we are finding that we like our local fresh beer much better. Still, there is something so comforting in a big black stout with a cascading creamy head. Left Hand rose to the occasion and made a bottle packaged stout that creates a lovely rich head….without the use of widgets.  I saw it first hand and not only was impressed with the gimmick, but also impressed with the beer as well.
Uinta Brewing – Uinta had a great year, as they pumped out their Crooked Line, which were powerful, flavorful 750 ml bottles of ale, corked, caged, and seemingly all over the place. In previous years here in CA, you would be lucky to find their Anniversary Barleywine, or a friend would have to smuggle some back from a ski trip. Not any longer, they are in full effect here in CA, and by the looks of it, in other craft beer thirsty markets across the country.
Epic Brewing – Epic brewing is a very new brewery on the Utah craft beer scene. Every week, I get their newsletter, and am amazed at their versatile lineup. You can add them to the list of breweries that are forced to expand due to demand. Look out for their collaboration with Crooked Stave as well as some barrel aged offerings in 2012.
Click here for Part 1
Click here for Part 2
Click here for Part 3
Click here for Part 4
Click here for Part 5
Click here for Part 6
Click here for Part 7
We will continue to recap the year in craft brew until the ball drops, so stay tuned loyal readers. Cheers!