A Look Back at 2011 Part 10 – Hair of the Dog, Full Sail, Deschutes and Ninkasi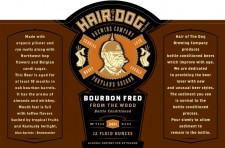 The ball dropped, 2011 is over, but this segment isn't quite over, so stick around as Dan wraps up 'A Look Back at 2011', featuring Pacific North West players Hair of the Dog, Full Sail Brewing, Deschutes Brewery as well as Ninaski. Cheers!
Hair of the Dog – Hair of the Dog, more specifically master brewer/owner Alan Sprints continued to make some of the most fantastic beer in the country.  Earlier in 2011, HoTD made some buzz with their Little Dog Series, selling highly sessionable second runnings of their big beers like Fred, Adam and Matt, and Doggie Claws. They ended the year with a release of Adam From the Wood and Bourbon Barrel Aged Fred. Unfortunately, Bourbon Fred had carbonation problems, and it was awfully nice of Alan to tell us a head of time, so we knew.  In releases past, Hair of the Dog has been able to sell cases at a time of specialties like Adam From the Wood with little to no fanfare. This years Adam From the Wood/Bourbon Fred release yielded in a quick sellout, and subsequently made them a hot item on the secondary markets.
Full Sail Brewing – Full Sail kept on the same track as the year before, pushing their broad portfolio of ales and lagers to over a dozen states.  I maintain they make the best lagers in the world, and added yet another few to the lineup with LTD 04 and 05, and Session Fest Red Lager, a holiday themed 11 oz. bottle of 6.2% lager.
Deschutes Brewing – Deschutes released a few big beer releases this year, first collaborating with Boulevard on Conflux, and also releasing The Stoic, a big Belgian Quad in very limited quantities.  Black Butte XXIII made it's return to bottles this year, with the recipe being tweaked a bit with some orange peel and cocoa nibs to the mix. I've had Aybss for years now, and I feel this years was amazing. I hope Deschutes keeps up the good work, and continues to make smart decisions like years past.
Ninkasi – Ninkasi had a tremendous 2011, pumping out beer like mad men and woman. Even here in Southern California, you can buy all of their bombers for about $4.00, compared to mosts $6.50 and up. We saw their figurehead Jamie Floyd team up with 21st Amendment to create Allies win The War, as well as More Brown Than Black IPA with Stone and The Alchemist this year.  They are producing a ton of highly drinkable beer dead in the middle of beer country, and are becoming a big name outside of their backyard.
Click here for Part 1
Click here for Part 2
Click here for Part 3
Click here for Part 4
Click here for Part 5
Click here for Part 6
Click here for Part 7
Click here for Part 8
Click here for Part 9
Click here for Part 11
We will continue to recap the year in craft brew until the we are done, so stay tuned loyal readers. Cheers!