A Look Back at 2011 Part 11 – Firestone Walker, Golden Road Brewing, The Bruery and Bootleggers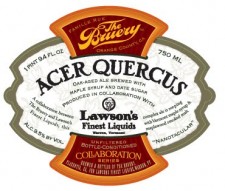 The ball dropped, 2011 is over, but this segment isn't quite over, so stick around as Dan wraps up 'A Look Back at 2011′, featuring West Coast players Firestone Walker, Golden Road Brewing, The Bruery and Bootlegger's Brewery. Cheers!
Firestone Walker – Firestone Walker is making the most of their recent expansion, as they made Double Jack a 'year round product, released Abacus (soon to be Sucaba), banged out a good bit of XV Anniversary ale, and treated SoCal with many of the barrel aged strong ale components of XV.  2012 will see even more beers added to the Proprietor's Reserve, and close locals will be treated to a new label, 805, which will start out with a slightly tweaked version of their house blonde ale. Oh yeah, and they cleaned up at GABF with their flagship pales like prior years.
Golden Road Brewing – In attempt to capitalize on the brewing wasteland known as Los Angeles, Tony Yanow (Dart's Away/Mowhawk Bend) and Meg Gill (formerly of Speakeasy and Oskar Blues) built one of the largest breweries in California. They recruited former Dogfish Head brewer Jon Carpenter to make their beers. As of press, you can only try their pilot batches at local bars or their tasting room, and will have 16 oz. cans in the first quarter of 2012 here in So Cal. With all the right resources in place, we don't see why this project won't work. I would like to see them give some of the amazing breweries in San Diego a run for my money, so we all have a brewery we can brag about and call our own.
The Bruery – The Bruery must be exhausted, with making over 30 new beers and counting their stacks in 2011.  In previous years, The Bruery would pilot new recipes all the time in their tasting room. Now with their successful cheese and bottle shop Provisions, they had the platform to offer a new recipe nearly once a month in bottle form under their provisions series label. They collaborated with Lawsons, Cigar City, Dogfish Head, Stone, Elysian as well as making a Pizza themed beer called Bierra Basta.  They also released two beers that weren't even offered to the Reserve Society, The Wanderer and Bottleworks XII. Speaking of The Wanderer, a sour ale with berries, it won gold at this years GABF.  Black Tuesday returned this year, and was much more accessible to locals compared to previous years. This is largely due to The Bruery's rapid expansion. As a spectator and writer, it looks like they are going neck and neck with selling then expanding a little more. It's amazing to watch this company grow this fast.
Bootlegger's Brewery – Reigning Craft Beer of 2010 champions Bootlegger's continued pleasing the locals with on average 12+ beers at any given time while providing food with local gourmet food trucks.  Because of how quickly Knuckle Sandwich DIPA became popular , Bootlegger's had a hard time keeping up with demand due to previous years contracts and production obligations. Every time we rolled down there, a new piece of equipment was being installed, all while new brews were being piloted.  One beer that we should all be on the lookout for is Barrel Aged Imperial Phoenix, let's hope Bootlegger's avoids the shit storm that many Barrel Aged releases cause. By the time you read this, you will notice Bootlegger's distribution has at least doubled, and is available at a great price where craft beer is sold.
Click here for Part 1
Click here for Part 2
Click here for Part 3
Click here for Part 4
Click here for Part 5
Click here for Part 6
Click here for Part 7
Click here for Part 8
Click here for Part 9
Click here for Part 10
Click here for Part 12
We will continue to recap the year in craft brew until the we are done, so stay tuned loyal readers. Cheers!