A Huge Thank You From The Full Pint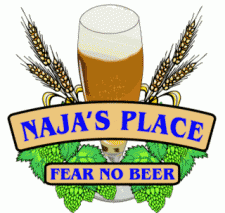 This past Friday, The Full Pint turned 5, and celebrated the best way we know how: with good people and over the top crazy good beer.  You may be scratching your head trying to figure out what happened to the 1st thru 4th year Anniversary parties.  We never threw them, mainly out of my fear we weren't big enough and wouldn't be able to draw a crowd.  I recall during our first year holding a tasting at Whole Foods Market in Pasadena, and 3 and a 1/2 people showed up. I was terrified and humbled, and made sure the next time we hold an event tied to our brand, that it would be as close to epic as possible, with a turnout we could be proud of.  This past Friday at Naja's Place, we did just that.
Well before we started The Full Pint, Jonny and I fell in love with the bar we had the party at, Naja's Place.  And what's not to love? It's over looking the beach, surrounded by seafood shops, and has over 60 dope beers on tap.  A few years later, we became good friends with big Jay, the Viking like bartender that can be heard from blocks away.  While there are many other amazing bars in Los Angeles, we felt this was the place to do our first real gathering. After worrying all week we might have too many guests and or not enough beer, those worries quickly went away.  While we did have a line outside the bar in anticipation, it was the perfect amount of people, mostly comprised of those who love us and  or were blown away by the amazing tap list we put together.
While we are shown universal love from all of our brothers and sisters in the craft beer industry, we'd like to give a couple of shout outs to those who were directly involved in taking what could have been just another LA Beer event and turned it into what might be the most epic beer event of the year.
Special Thanks (no particular order, please don't be hurt)
Firestone Walker Brewing Company – They showed us huge love by creating a beer on par with their own Anniversary Ale series. They also sent their rep Shane who dipped into his personal time for his company and our company, ensuring all was well and that people could win some Firestone schwag during the event.
Cigar City Brewing – One of my top favorite beers in the entire world is Cigar City Hunahpu's Imperial Stout. After procuring some for the party, Naja's management wanted to play it safe and not put any out of market beers on tap. A respectable stance for sure, Jay and I wanted to work around that situation, and we wound up ending the evening with an impromptu toast with one of the best beers ever made.
Stone Brewing – Brewmaster Mitch Steele worked with me on devising a beer that nobody has tried before specifically for this event. We threw around some ideas, and one day he pitched Stone IPA With Boysenberries with Blueberries. Without a blink of an eye, I told him it sounds amazing, and his team went to town on it.  In a sign of true love, Greg Koch and Randy Clemens publicly RSVP'd for the party, and added tremendous value to the vibe of the celebration.  Stone helped put us on the map 5 years ago, when Danny Fullpint really had no business covering craft beer.
Bootleggers Brewery –  My favorite local brewery is in the middle of moving facilities, and I hesitated to tap them on the shoulder knowing that fact.  With that said, Owners Aaron and Patricia were able to blend, carbonate and deliver a custom made sour ale for our party, along with a very cool looking tap handle.  That is big time love.
AleSmith Brewing – I almost cried when I get an email back from the soft spoken, kind hearted Peter Zein that he would be able to help us out with our party.  After last years San Diego Beer Week, our love for Speedway Variants went off the charts. The best beer at that event? Vanilla Coconut Speedway Stout. What did Peter want to offer for our party? Vanilla Coconut Speedway Stout. Needless to say, it was the first keg to blow.
Maui Brewing – In a 3 month game of "Who's on First?" Maui owner Garrett Marerro and I were able to bring one of a half dozen kegs of Jolly Pumpkin/Maui Collaboration to our party, and at the 11th hour a keg of his version of the collaboration.  Maui has shown nothing but love over the years and they understand what we are about.
Allagash Brewing – While raised in New Jersey and residing in California, my heart will always be in Portland Maine.  Allagash Brewing granted us access to a very limited keg, being Ghoulschip.  While most folks in So Cal have been lucky enough to get a sip off of a 12 oz. bottle, we were able to pour 8 oz. at a time on Friday night thanks to Allagash.
Dogfish Head – We Californians aren't as spoiled as the rest of the country in regards to Dogfish Head availability. One of those beers that everyone hears about and needs to try once in their life is Dogfish 120 Minute IPA.  Thanks to Dogfish Head, they made this a reality at our party.
Ballast Point – Another 11th hour surprise came in the form of a cask of Dorado Double IPA and other fresh goodies from Ballast Point, shout out to Matt Wilson who hustles up and down the highway for craft beer.
LA Support – Clay from 38 Degrees, Jimmy from Far Bar, Thomas from El Segundo Brewing, Daniel Drennon of LA Weekly, Bernie Wire, Cathy from Firestone, Shane from Firestone, Rich from Strand all came out to show love. Good times with them, and I know I've forgotten some names.
Naja's Place – Jay, Kara, Jan and the rest of the staff really accommodated our vision for that day. Thanks to them, we had one hell of a party.
We may have missed someone, but please know we are extremely grateful for being a great partner to us. Please stay tuned for the next few days as we post pictures from the event.