Danny Fullpint Runs Down The Best 10 IPAs for #IPADay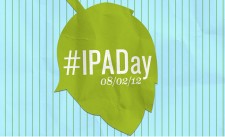 National #IPADay is in full effect, and for all those not madly in love with IPAs like myself need to know what to look for.  I'm going to break it down for you in this list, but this list will include IPAs and Double/Imperial IPAs. Often times either style of beer will be marketed as just an IPA regardless of the strength or malt bill.  While I haven't read the other lists going around, this will be the best guideline you can follow to getting your IPA fix on the entire Internet. Cheers!
1. Russian River Blind Pig IPA – Sorry to rub it in right off the bat for all those not in California, Colorado or Philadelphia (Russian River's markets right?).  Blind Pig, in my opinion is what every startup brewery should strive for, before they try sours, barrel aging, wax dipping, and every other gimmick that is in use at the moment.  It's dry, its hoppy, super aromatic, super drinkable, with a perfect level of alcohol to let you enjoy a few glasses.
2. Russian River Pliny The Elder – See what I just did there? I wanted to make this number one, but seeing as Blind Pig is more in line with a single or regular IPA, I gave it the slight nod.  Pig and Pliny are both amazing, this beer having a bit more complexity, a way bigger nose, but because it's so smooth and delicious, you might forget it's 8% abv.  This beer is just magic.
3. Alpine Beer Co. – Nelson IPA – The Nelson Sauvin hop variety lends its big tropical dank profile to any beer it touches.  This beer, Nelson IPA by Alpine is one of the best examples of this hop.  There are some similarities between many of Alpines killer IPAs, for me, this one is better than Pure Hoppiness, Duet, Bad Boy and even Exponential Hoppiness.  For my money, there isn't a better smelling IPA than this. So hard to get even 3 hours away from my home.
4. Firestone Walker Union Jack IPA – California/West Coast IPAs are some times criticized for not being balanced.  That's where Union Jack comes in.  You get the boldness of the West Coast IPA, but the beer is so clean and spot on balanced.  It's a little bit dangerous because of that, as the beer is 7.5% abv and drinks like it's 6%.  This has become way more available than when it first debuted a few years back, so treat yourself.
5. Ballast Point Sculpin IPA – This beer was one of the first mind blowing IPAs I tried in my journey. It's nothing like the first four I listed. It's got an orange/copper tint, and I perceive it to have  less malt than most IPAs, letting the hops take the front seat in this ride.  Like all OGs, I will say it seemed different before Ballast Point ramped up production, when this beer is fresh, there might be nothing more tasty and refreshing.  Ballast Point, we're ready for the bottle dates.
6. Bootleggers Knuckle Sandwich DIPA – I would argue that Knuckle Sandwich was the turning point in the success of Bootlegger's Brewery in Fullerton, CA.  One of the most tropical, easy drinking 10% hoppy beers you will ever try. It's dry, fruity, tropical, bitter and goes down like it's only 7% at best. Oh yeah, it was voted Best Craft Beer of 2010 by the readers of The Full Pint.
7. AleSmith IPA – When this beer is fresh, its one of the most bitter west coast IPAs for your money. Hell it's probably just as bitter on the way down.  If you ever visit AleSmith in San Diego, make sure you try this. It's a mouthful of hops.
8. Drakes Hopocolypse – This beer hasn't been in distribution for too many years, and really got my attention this past batch.  Hopocolypse is a big beer, a double IPA to be exact, but drinks like a magical tropical dank IPA.  I'll never know what this beer is like past its prime as it hits the shelves here in SoCal the week it comes out, and is gone until the next time it's made, which is about once a year.
9. Smuttynose IPA – While this IPA isn't crazy and over the top hoppy, you will be quite surprised how tasty this IPA from New Hampshire can be. Great bitterness in the forefront, very dry, drinkable.
10. Racer 5 IPA – Good old Bear Republic Racer 5 IPA.  A great, affordable introduction into West Coast IPAs.  This beer is widely available, and while it little malty for my developed/fatigued palate, it's heads and tails better than most IPAs on the market.