Legend Brewing Co. 23rd Anniversary Party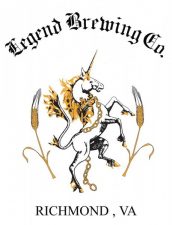 (Richmond, CA) – Legend Brewing Co. will be hosting their 23rd Anniversary Party on Saturday, April 15th from 2pm – 9pm at the Richmond location. The event will be held outdoors with a large stage in the parking lot overlooking the skyline view of Richmond.
Expect a pig roast and a full buffet of southern comfort food alongside the full line of Legend Beers.
Live music performances by Trey Hall Trio, The Greater Richmond Bagpipes & Drums, Slack Family, Wade Reynolds, and Chamomile & Whiskey.
A $25 admission fee includes three tickets to be used on beer or buffet. Anyone under the age of 21+ or designated drivers can purchase admission tickets for $10 and anyone younger is FREE. Advance tickets will be available at the pub for $20.
Additional food and beverage tickets will be available for purchase on site for $6 each.
Legend Brewing Company is a commercial microbrewery providing true premium beers to many of the best pubs and restaurants in Richmond and other areas of Virginia since January, 1994. Our mission is to bring to our customers the finest and freshest brews as flavorful alternatives to mass-marketed mainstream products. We're one of the few craft breweries in this region producing both lagers and ales, which require different yeasts and maturation conditions. All Legend beers are unpasteurized and made from only two-row and specialty barley malt, hops, water and yeast.
www.legendbrewing.com – @LegendBrewingCo – facebook