Hi-Wire Brewing Celebrates 4th Anniversary
(Asheville, NC) – Hi-Wire Brewing will be celebrating their 4th Anniversary on Saturday, July 22 at 5:00pm at their Big Top Production Brewery | 2 Huntsman Place | with a variety of circus-themed attractions, including a glass-house maze, ferris wheel, dual aerialist acts, tarot card reader, stilt walkers, a high striker, a face painter and much more. Additionally, they will be pouring sixteen, never to be seen again, sour and wild ales.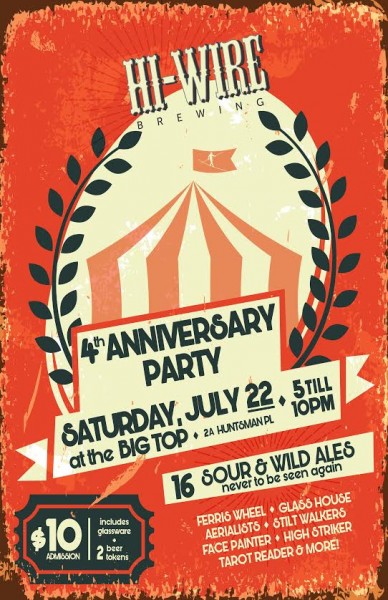 Hi-Wire Brewing opened a little over four years ago at their 3,000 square foot South Slope location, only brewing and distributing in the Asheville area. Today, Hi-Wire Brewing distributes to five states, and works out of a 27,000 square foot production facility in the Biltmore Village area of Asheville.
Reflecting on the past four years, co-owner Adam Charnack notes "While it's been only four years since Chris and I started Hi-Wire, it feels like forty years sometimes. I hear similar feedback from our loyal fans as well 'haven't you guys been around for like six or seven years?' So much has changed in four years, including our now two-year-old Big Top facility being built and our incredible growth. But our commitment to quality and innovation as well as to the communities that we're a part of has only grown deeper and deeper. Thanks to everyone who's been such a big part of our success – our employees, accounts in the marketplace that have supported us, our distributors, and, of course, you – our fans. Cheers!"
Step Right Up! and come enjoy this family-friendly party with Hi-Wire Brewing. Admission is $10 and includes commemorative glassware and two beer tokens.
About Hi-Wire Brewing
Located in Asheville, NC, Hi-Wire Brewing is known for producing approachable and balanced lagers and ales, most notably Hi-Wire Lager, Bed of Nails Brown, and Hi-Pitch Mosaic IPA. They have two locations in Asheville: the 27,000 square foot Big Top Production Facility & Taproom located half a mile from the Biltmore Estate and the South Slope Specialty Brewery & Taproom located in the South Slope area of downtown, which has a focus on wild and sour ales. Hi-Wire was awarded the most medals at the 2014 NC Brewer's Cup and was named Best New North Carolina Brewery of 2013 by RateBeer. Most recently, the Zirkusfest Oktoberfest Lager won gold at the 2016 Great American Beer Festival® in the German-Style Maerzen category. Their award-winning beers can be found on draft and in bottles across North Carolina, South Carolina, Tennessee, Georgia, and Ohio.
www.hiwirebrewing.com – @HiWireBrewing – Facebook