Green Flash Imperial Happy Hour Cask at Hamilton's – Mar 6th!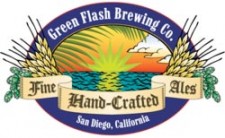 Drop in to Hamilton's Tavern in southpark on Friday March 6th, for Happy Hour, as they tap a cask of Green Flash Imperial IPA.
Hamilton's says, "One of the best Double IPA's made, period. Juicy fruity, chewy yet palate-cleaning. From the first whiff you know you are in for a hop fix as you get that big piney, spicy, citrus nose of this West Coast boss. ALWAYS one of the best Cask's we serve and scarily drinkable!"
While enjoying our Green Flash Imperial, try Hamilton's featured gourmet sausage – "The Karate Kid" – All Pork sausage with wasabi, green onion, garlic, fresh ginger and Hops! Served with Wasabi Beer Mustard! They will also have 2 sides of warm Soba Noodle's in a ponzu sauce, crispy wonton chips, and a Japanese Ginger salad to accompany.
Hamilton's Tavern
1521 30th St
San Diego, CA 92102
(619)-238-5460
Mon-Fri: 3pm-2am
Sat-Sun: 1pm-2am