Eagle Rock Brewery & Keep A Breast Foundation – Fit 4 Prevention Events
(Los Angeles, CA) – Family-owned Eagle Rock Brewery, (ERB) is joining Keep A Breast Foundation's Fit 4 Prevention Campaign by releasing Hop A Feel Session IPA to benefit the cause and participating in weekly wellness events throughout October. #Fit4Prevention is an international movement to raise awareness about breast cancer prevention through fitness and wellness with the aim to inspire people to reduce the risk of cancer by adopting a healthier, more active lifestyle.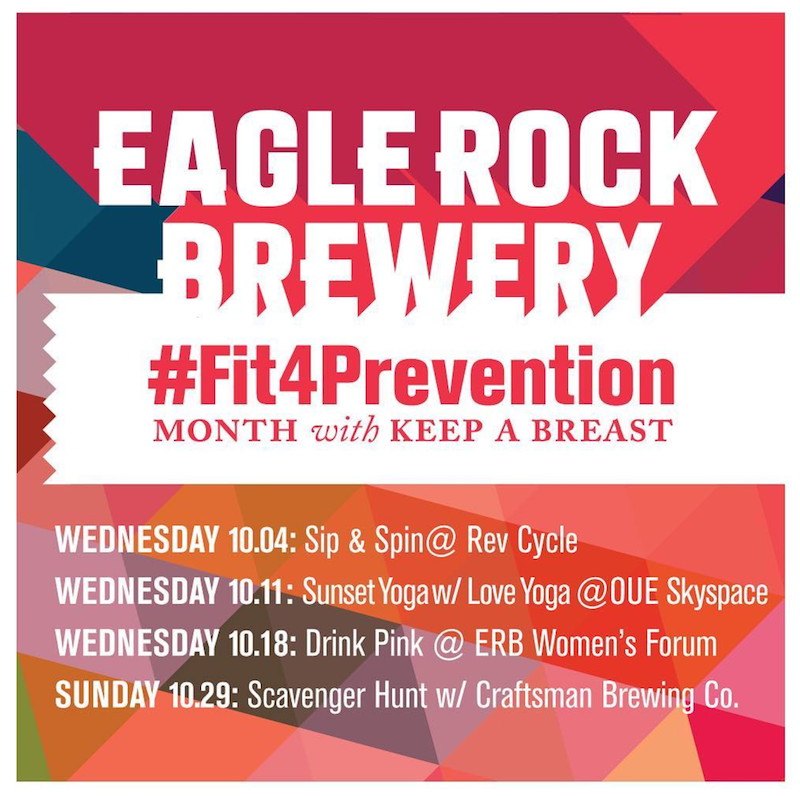 To support this campaign, ERB is released Hop A Feel Session IPA yesterday, Tuesday, October 3, 2017, on draft and limited bottle release in the taproom and donating $1 per pint purchased in the taproom and Eagle Rock Brewery Public House. Hop A Feel is a 5.0% session IPA brewed with beets to make it pink, the signature KAB campaign color. ERB is also participating in the weekly Fit 4 Prevention events in the area, including hosting their annual Drink Pink Women's Beer Forum event at the brewery on Wednesday, Oct. 18. See below for full schedule.
FIT 4 PREVENTION EVENTS SCHEDULE
Spin & Sip Event
Wednesday, Oct. 4 at Revycle & Craft Beer Cellar
Spin & Sip will start with a spin class at RevCycle in Eagle Rock, then finishing with pints at Craft Beer Cellar in Eagle Rock. Each class is designed for all fitness levels from beginners to elite athletes. The price of the class includes a pint of Hop A Feel to be enjoyed after the ride, just up the street at the Craft Beer Cellar Eagle Rock. Sign up for the event at: http://revcyclingla.com/apps/mindbody/classes/78
Sunset Yoga Event
Wednesday, Oct. 11 at OUE Skyspace
Sunset Yoga will include a yoga class led by instructors from Love Yoga with a 360 view of Downtown L.A. as the sun sets at OUE Skyspace. After the class, students have the opportunity to try Hop A Feel, and light snacks will also be provided. Participants get a free swag bag with class. Sign up for the event at: Bit.ly/kabskyspace
Annual Drink Pink Event at ERB Women's Beer Forum
Wednesday, Oct. 18 at Eagle Rock Brewery
The Annual Drink Pink event at ERB's Women's Beer Forum will feature a flight of special pink beers that were made specifically for the Forum to raise funds for KAB. Ladies attending will get to meet some of the brewers who made the beers, hang out with like-minded beer drinking ladies, and keep their taster glass. Sign up for the event at: ladies.eaglerockbrewery.com
Scavenger Hunt Hike with Craftsman Brewing
Sunday, October 29 at Eagle Rock Brewery
Eagle Rock Brewery is teaming up with Mark Jilg of Craftsman Brewing to host a morning hiking scavenger hunt to be followed by a beer tasting to benefit KAB. Check out the event Facebook page for more details coming soon: https://goo.gl/d41WXA
www.eaglerockbrewery.com – @EagleRockBrew – Facebook