Mother Earth Motor Lodge is Now Open
(Kinston, NC) – Mother Earth Brewing and Mother Earth Spirits have a new addition to the Mother Earth campus – the Mother Earth Motor Lodge! Recently restored to its midcentury glory, the Mother Earth Motor Lodge is an immersive experience of the 1970s. With a pristine pool and poolside lounge and an outdoor activity area, the Mother Earth Motor Lodge is the best new place to spend your weekend away! Guests can sip a Mother Earth beer by the pool, enjoy a complimentary game of shuffleboard, mini golf, or table tennis, or relax in a spacious, retro suite. Just blocks from the Mother Earth Brewing taproom and Mother Earth Spirits, the Mother Earth Motor Lodge turns your weekend visit into a weekend destination!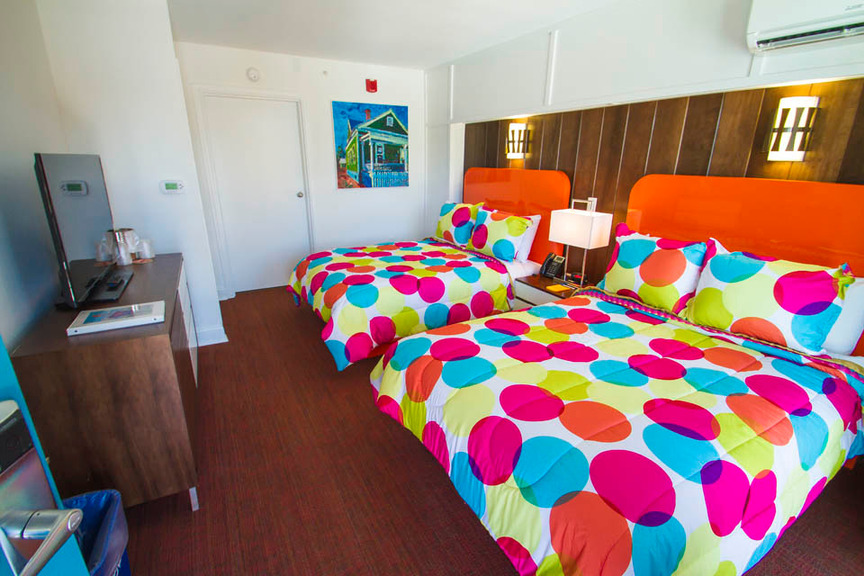 HISTORY
Travel back in time with the revival of what was once known as Kinston's Mid-Town Motor Lodge. Originally built by George Dubose of Dubose Realty Company in 1963, in an area known to locals as Mitchelltown, this Motel was intended to accommodate downtown shoppers and automobile travelers from Highway 70 and Route 11 (HWY 11). Tourists came from all directions to enjoy the food, fair, shopping and shows in Kinston. The town had a thriving economy and parking places were hard to come by on the weekends.
This era is historically known for new rising genres of music and a growth of social changes. A favorite for Kinston in the 60s were big band ensembles that would play in warehouses around town. Talent like James Brown and some of his band even called the Motor Lodge home from time to time after performing a local show. As the years passed, the tobacco and textile industries dwindled, and Kinston saw less and less travelers. The Motel was forced to shut its doors. In the 80s, new ownership and the name change to Kinston Motor Lodge brought in rent-by-the-hour guests. However, it still was not enough to sustain what was once a thriving nightspot.
Now revived by Mother Earth Brewing, the Motor Lodge has been restored to its former glory and proper place in the community. The Mother Earth Motor Lodge is registered as a National Historic Building by the United States Park Service and will enthusiastically participate in the business community of downtown Kinston for years to come.
BREWERY
Just blocks from the Mother Earth Motor Lodge, Mother Earth Brewery continues to brew award-winning beers in an
environmentally-responsible way. Motor Lodge guests are invited to enjoy craft beers in our tap room, in their suites, or by the Motor Lodge poolside.
RATES AND AVAILABILITY
Booking information is available at www.motherearthmotorlodge.com.
www.motherearthbrewing.com – @MotherEarthBrew – facebook