A Rumpkin Afternoon At Avery Brewing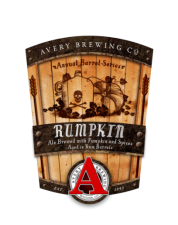 Last Saturday, Boulder's Avery Brewing held their 3rd annual release party for Rumpkin, their 15.9% ABV barrel-aged pumpkin beer. This is the third year they've brewed it, but only the second they've bottled it for sale in extremely limited quantities outside of the taproom as well. Last year I was not able to make it to the taproom release, so I was forced to scour local stores until I managed to come up with three bottles (two of which are still cellared at my house). Needless to say, this year I had the release date marked on my calendar from the moment it was announced, and I was there a few hours early to enjoy some of Avery's other taproom- only beers.
During my wait, I enjoyed some Lizzie Lee's Riverside Ale and luckily also had a chance to talk to Joe Osborne, Avery's Marketing Director. While I'd been visiting Avery for years, I'd never had the chance to get a tour or speak with any of the staff so it was a fantastic opportunity to learn more about the landmark brewery and also just geek out with a fellow "beer nerd". Thanks to Joe, I have an even better understanding now about what Avery is all about and why they truly deserve the outstanding reputation they've earned from their earliest days.
In 1993, Adam Avery (Avery's founder/President), started off brewing styles of beer that were popular at the time. While those were successful, he eventually put his whole effort into creating something new; a dry-hopped barleywine called Hog Heaven. The label art included pigs with wings, because at the time the beer was so unique that Adam figured people would only drink it when pigs flew. It turned out to be a huge hit with beer fans, put Avery Brewing on the craft beer map, and is still produced year round. From that point on, Adam decided to only brew beers that he wanted to drink and disregard what was popular or trendy, and that philosophy continues to this day.
As important as innovation is to Avery, so is quality. One thing that truly sets them apart is their commitment to consistently high quality beer, and they have an on-site laboratory staffed with four employees who check yeast count and oxidation daily. Any batch that does not meet strict standards is thrown out; there is no blending of beer that isn't up to par with good beer, and that goes for barrel-aged batches as well. Outside of the brewery, employees who have found Avery beer being sold that's old or not properly stored will buy back the remaining stock so it will not be consumed. These high standards are also the reason that Avery does not sell growlers in their taproom, or allow them to be sold anywhere else. Even though growlers are quickly gaining popularity nationwide, Adam feels strongly that there is no way to ensure quality or freshness when a growler is used, and won't allow Avery beer to be sold in that format.
Another crucial component for Avery's success is that they've always had an eye on the future. They had custom-made canning and bottling systems in place long before they were actually ready to use them, and have always purchased top of the line equipment regardless of capacity or output. They have always been ahead of the curve with their brewing innovations, willingness to collaborate, and events such as SourFest. With the upcoming 2014 expansion and move to Gunbarrel, Avery will have a custom built space where they'll be able to continue producing top quality beer and events. After spending time with Joe and learning so much more about Avery, I gained an even greater appreciation for why their brewery is world-renowned. I left the brewery last Saturday armed with new respect and, of course, some 2012 Rumpkin. This year's batch has added spice and should not be missed. A limited amount should be hitting stores any day, so keep an eye out because I'm not sharing!
www.averybrewing.com – @AveryBrewingCo – facebook