Introducing One of Indiana's Newest Craft Breweries: Bare Hands Brewery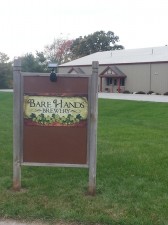 The Full Pint is proud to bring to you, an original article from our newest intern Thomas. Thomas lives in the Indiana/Michigan area, and is bring his unique perspective on that scene to all of us. Hope you enjoy, cheers!
Nestled in the center of an otherwise vacant industrial center in Granger, IN, far off the main drag and hidden from passerby and street traffic, one of the absolute best craft breweries in Indiana quietly goes about its business serving up great beer. The product of owner Chris Gerard's efforts for over a year to open a quality small-batch brewery, Bare Hands opened its doors in December of last year and is now serving up the best craft beers that I've found in Michiana, hands down.
I had the opportunity to stop by Bare Hands for the first time last Sunday on a strong recommendation from my thesis advisor. I had been warned prior to my arrival that the place was small and a bit out of the way, but I was still a bit surprised to see it surrounded by vacant windows bearing "for rent" signs. Still, I kept my spirits high – I'd heard this place was pouring liquid gold. Walking inside, I was immediately struck by the friendly atmosphere and the casual, laid-back setting. Despite being a complete newcomer, I was immediately included in the conversation between the bartenders and the regulars – and what sophisticated beer talk it was! I was glad to be able to contribute my knowledge of the San Diego craft beer scene and make some recommendations, and even more glad to receive even more recommendations in return. (Thanks guys!) Impressed with the atmosphere and the people, it was time for me to move on to the most exciting part of the experience: the first brew of the evening.
Bare Hands is famous in the local beer scene for two things: brewing solid and delicious beers in traditional and popular styles, and brewing outrageous and crazy things and making them taste awesome. I decided to make the second my priority for the evening, and started with the Thai.P.A. As the name suggests, it's a Thai spiced IPA, and it's one of the most popular brews they offer. From the first sniff and the first taste, I could see why: a phenomenally balanced IPA, it had all the characteristics of a good Midwestern IPA (though admittedly a bit less of a hop bomb than my San Diegan palate is used to), but with an additional presence of ginger and lemongrass. It's exceptionally drinkable and particularly interesting if you're a fan of Thai flavors. Be wary of the 7.1% abv, but it would make a great session beer.
I should note that between the Thai.P.A. and my second selection of the evening, a local homebrewer I was introduced to as Jim brought out two bottles of his own stuff: a pumpkin ale and a centennial IPA. These bottles were opened and poured by the bartenders into tasters, and passed around the pub for tasting and feedback. Thanks Jim – they were great – and thanks to the bar staff for providing such a fun and chill atmosphere!
Next up was something I'd been eyeing on the list from the moment I walked in the door: the Honey Badger Double IPA. Described on the menu only with the epithet "honey badger don't give a sh*t," I was quickly informed upon inquiry that this was a double IPA brewed exclusively with citra hops and with 6 pounds of honey. I was sold immediately. This thing had possibly the most phenomenal aroma I've ever experienced in a beer, and the taste didn't let down either. The honey is present, though less strongly than I expected, and nice, but the citra hops steal the show: the fragrant grapefruit and tropical fruit notes are perfection. This sells out fast when it's brewed, I'm told, so if you see it, get it while you can!
At this point I had to skedaddle, so I had a growler filled with their Barleywine (I'll report on its quality when I crack it open, but I was assured by a regular that it's brilliant) and went on my merry way, happy to have tasted some seriously quality beer in an area that's too often overshadowed by the big and brilliant Chicago and Michigan craft beer markets. I can't stress enough both the quality of the atmosphere and the quality of the beer, and at $5 a pint of lower-gravity and $6 a snifter of higher-gravity beers, the price is nice. If you have the chance, come check Bare Hands out. Even better, drop me a line, and I'll go with you.