SweetWater Sch'Wheat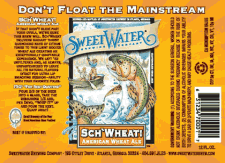 From SweetWater – If that didn't slide pas your uvula, we're sure this brew will. Sch'Wheat delivers radiant thirst quenching rays of citrus tones to this light bodied wheat ale creating an exceptionally quaffable experience. We left 'er unfiltered and, as always, unpasteurized to leave all its natural flavors intact for ultra lip smacking session-ability with your favorite folks.
SweetWater Brewing – Sch'Wheat – 12 oz. bottle poured into an imperial pint glass – Abv Unknown.

Appearance: Pours a cloudy, bright yellow gold with a pillowy white head. The foam leaves behind spotty lace.
Aroma: Bread dough, banana, citrus essence.

Taste: Spicy hops, fruity yeast, banana. Finishes clean and bitter.
Mouthfeel: Full bodied with moderate fizz.
Overall: Pretty enjoyable for a style I don't go after. I got this pretty fresh, so the hops are standing out quite nicely.