Ninkasi Total Domination IPA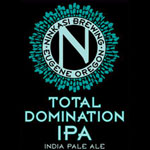 From Ninkasi Brewing – A true Northwest style IPA, citrus notes, floral and balanced, from ingredients regionally sourced, it is the definition of a true craft beer.
Ninkasi Brewing – Ninkasi Total Domination IPA – 22 oz. bottle poured into a pint glass. 6.7% abv. Purchased at Beverages and More – Pasadena, CA
Appearance: Pours a cloudy amber gold with a fluffy white head.
Aroma: Kolschy, grainy with some slight sweetness and citrus.

Taste: Soapy, grainy, finishes with dry malt and metallic hops.
Mouthfeel: Full bodied.
Overall: I didn't really enjoy this beer that much. I am a big fan of their Double Red, so I am excited to try Tricerahops.