Reviewed: Oskar Blues Fugli
Product description: Yuzu and Ugli fruit infusions twisted together with the blueberry, tangerine notes of Mosaic make for a tangy, juicy, zesty array of aroma and flavor. Salivation will instantly ensue with one sniff of this crushable brew that was inspired by a Yuzu brew we made with some brewing friends in Japan. 5.8% ABV, 60 IBUs.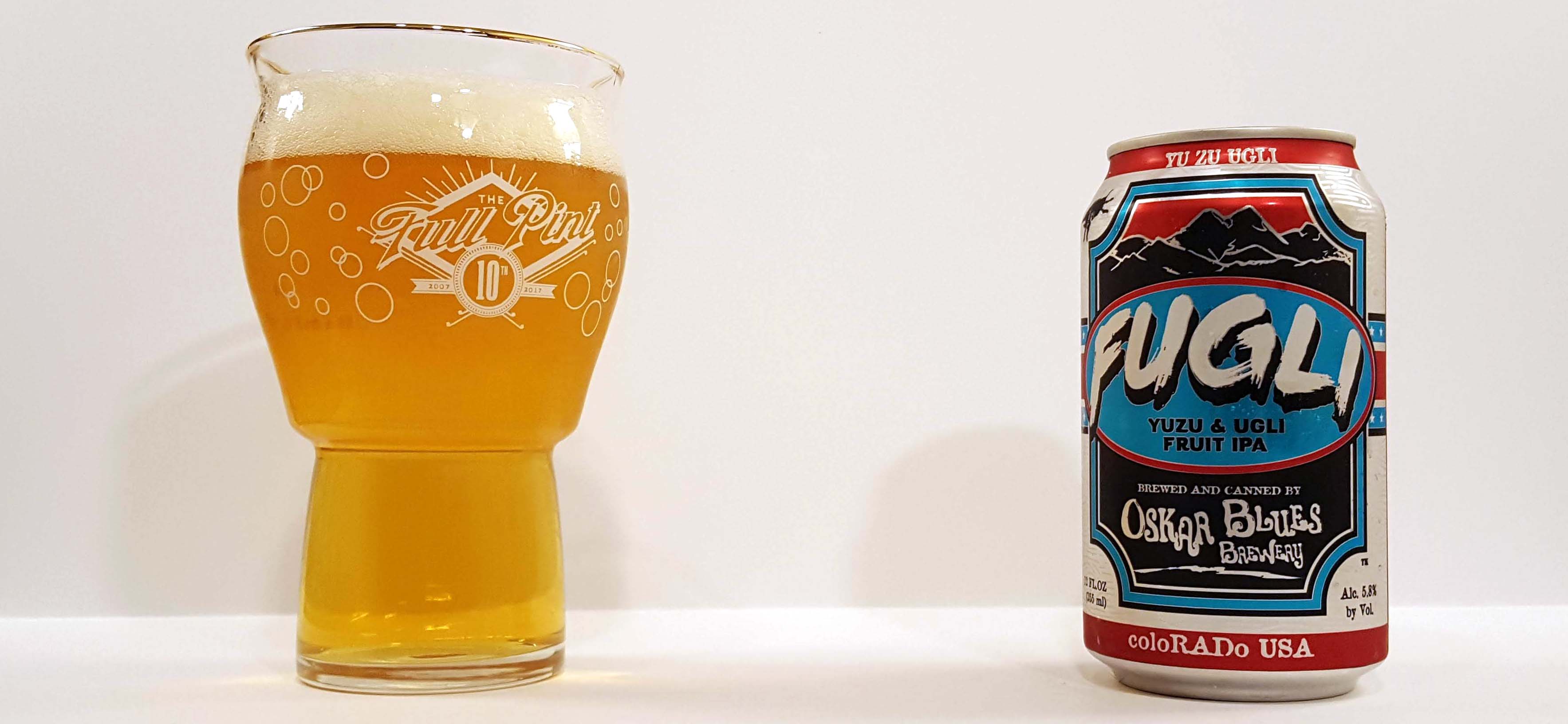 Oskar Blues Brewery – Oskar Blues Fugli Yuzu & Ugli Fruit IPA – 12oz can served in specialty glassware – 5.8% ABV
Sampled from a 12oz can packaged about a month ago thanks to a printed date on the bottom, Fugli goes into the glass as a clear, pale golden liquid topped with larger-bubbled white foam that isn't as dense or rocky as its peers in this segment. You get an immediate blast of bright citrus in the aroma that quickly makes way for the base maltiness underneath with fresh bread, vanilla pound cake, and caramel. It's not unique enough for me to pick out the exotic fruit elements, but it works perfectly. The flavor immediately is drier than expected with a lot of perfume and scented soap flavors. The mouthfeel suffers from that combination I've mentioned many times before where a dry body plus high bitterness equals an accentuated stinging astringency. Without any malt density and sugar for balance, the kettle hop component runs unrestrained into a harsh climax. Sure, the perfumey citrus flavors themselves are bright, ABV is lower, and carbonation is high. Under normal circumstances, this would be a refreshing beer. But the core of the beer, its mouthfeel and balance, is off in my opinion.
I think the exotic citrus component is a good idea, and I'm happy to see something on store shelves that stands out recipe-wise. I'm also glad to see an IPA at 5.8% rather than 7.5%. But when it comes to fruit IPAs like this, the gold standard right now is Stone in my opinion. Beers like Tangerine Express have integrated citrus additions flawlessly to make something outstanding. Fugli is simply behind the curve when it comes to reaching that balance between sweetness and bitterness that every IPA needs.