Reviewed: Maui / Crooked Stave Two Tickets to Paradise
Product description: Pack your bags and get transported from Colorado to the islands with our Crooked Stave collaboration beer. Hibiscus flowers and local limes add a unique twist to this tropical tart Saison. 4.8% ABV, 20 IBUs.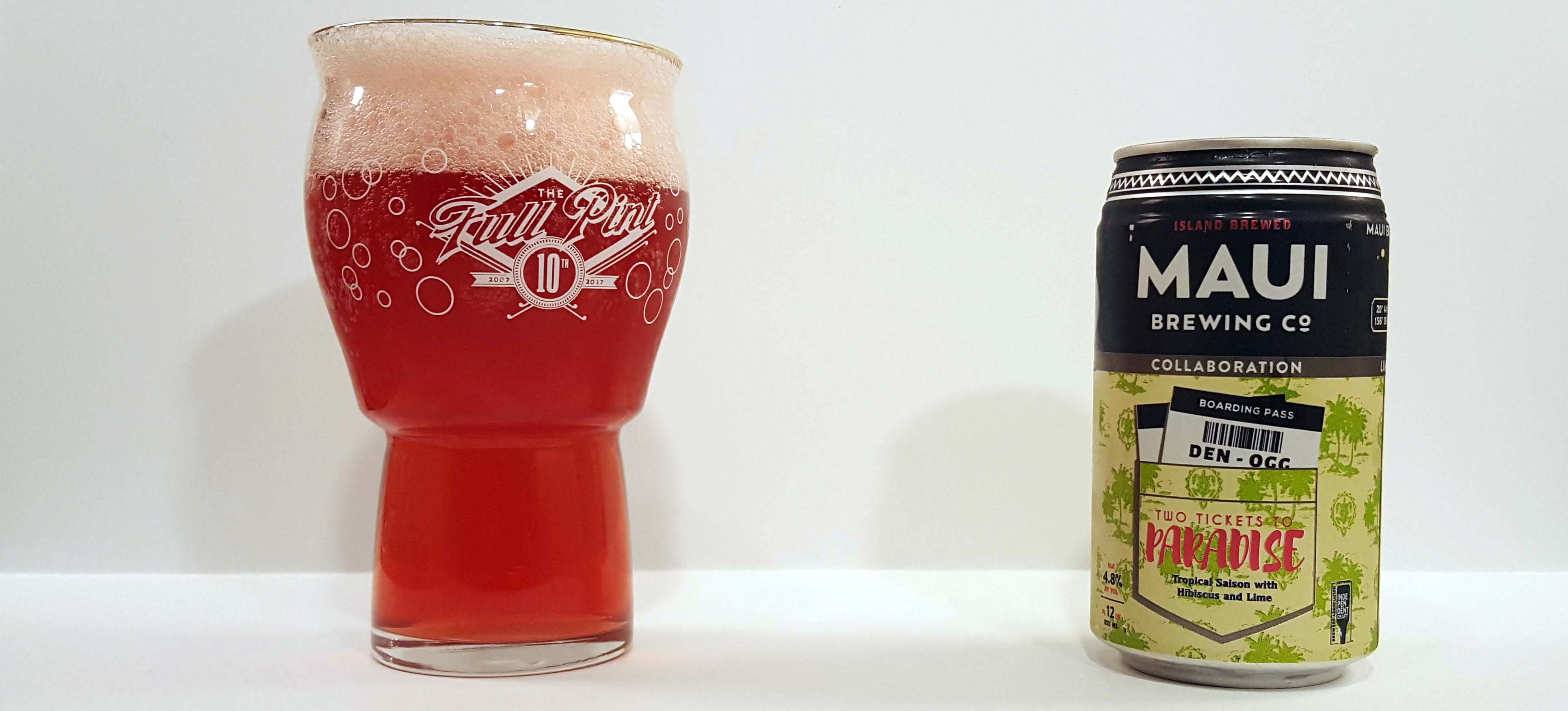 Maui Brewing Company – Maui / Crooked Stave Two Tickets to Paradise – 12oz can served in specialty glassware – 4.8% ABV
Picked up at Trader Joe's ($3), I'm sampling this from a 12oz can packaged about three months ago thanks to a nicely printed canned-on date on the bottom. I know nothing about this beer other than that I love both breweries, so I had to try it out. Into the glass, this is a clear, deep pink color with light pink, soda-like foam on top. It's gorgeous. As I'm pouring, I notice that there is substantial sediment at the bottom of the can, which I stopped adding in after I noticed. Just a few pinches of it get through, which is enough to cloud up the beer as you see in the picture.
You get a beautiful, light aroma in the beginning with fresh ionized air, Granny Smith apple, and Ocean Spray cranberry. As it warms, strawberry daiquiri takes over, which compounds over time to approach cherry Sucrets, but it thankfully falls short and remains in tropical mixed drink territory. Dig in and this beer is refreshing to the max. Carbonation is high, alcohol presence is nil, and acidity is nicely restrained at a 6 out of 10. You get an excellent mix of lactic and citric acids that is balanced out with touches of sugar and salt. There's no acetic acid/vinegar flavor that plagues many American sours. Fresh bread and cranberries dominate after a few sips. Some creaminess perhaps from a wheat addition rounds it out nicely into a beer that is much closer to a fruited Berliner Weisse than a saison. 
Hill Farmstead's (technically Grassroots) Brother Soigné is the closest beer I can think of recipe-wise that I've tasted. That beer is one of my all-time favorites but is also difficult to procure. Brother Soigné is lighter-bodied, fluffier, and still maintains a firm saison character. Two Tickets to Paradise is more acidic with a saltiness and creaminess that pushes it closer to a German type of sour. Perhaps it isn't as refined and ethereal an experience, but having something like this readily available in cans from the local grocery store is nothing short of a miracle.
This beer shows expertise in how to make a sour that is palatable, i.e. one that you can keep going back to instead of being a one-and-done ordeal. It's not what I would call a saison, but that style is open to interpretation. I'd place this closer to gose or Berliner Weisse based on flavor profile. It's nit-picky, I know, as the end result is the same: this is phenomenal. It is truly amazing to have a beer of this caliber come out of a 12oz can. Just a few years ago, something this good would have only been available as a 2 bottle limit, 750mL corked and cage special release for $40 a pop.
*         *        *
Please use the comment section below for general comments about this beer and/or my review. If you would like to see a specific beer reviewed or have general comments on reviews, please email info(at)thefullpint.com. For more information on how we review beer read here.