Reviewed: Monday Night Don't Call It Hotlanta
Product description: What's the fastest way to make an Atlanta native cringe? Say "Hotlanta." Take your senses on a trip when you sip on this quadruple-dry-hopped IPA. With the unpredictability of Atlanta's spring weather, this cloudy double IPA pops with sunny tropical notes on the nose. It drinks dank and finishes with a bit of bitterness, much like an Atlanta sports fan. Don't Call It Hotlanta checks in at a bridge-collapsing 8.5% ABV, so enjoy it after your hour-long evening commute. Hops: Columbus, Citra, Galaxy. Malts: Pilsner, 2-Row, Flaked Oats. 55 IBUs.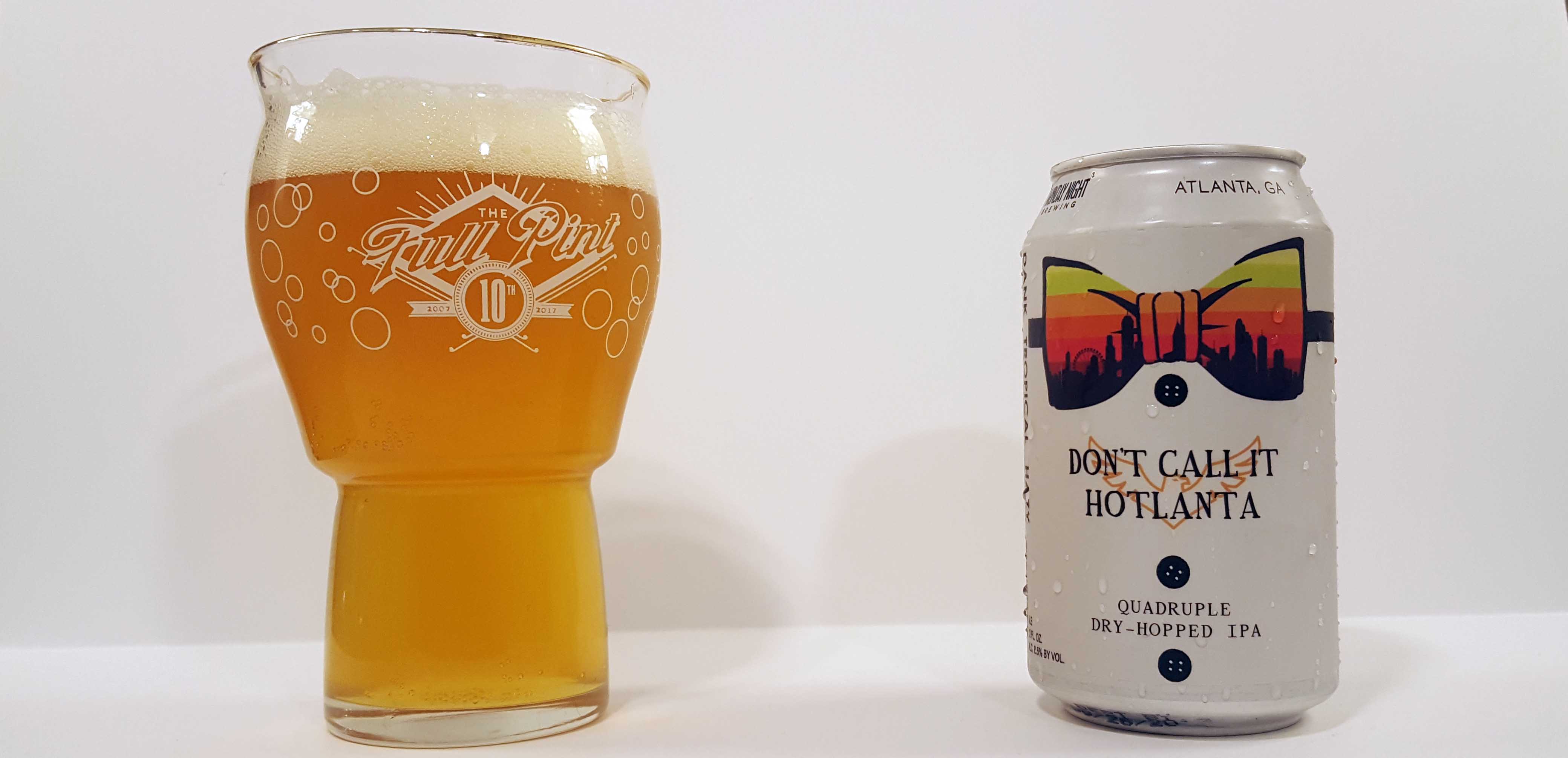 Monday Night Brewing – Monday Night Don't Call It Hotlanta – 12oz can poured into specialty glassware – 8.5% ABV
I've tried a few of Monday Night's hazy IPAs recently, all of which have been pretty solid. Perhaps the most intense so far has been Don't Call It Hotlanta. Today, I'm sampling this from a couple of 12oz cans with a best by date of 8/26/18 printed on the bottom.
Into the glass, Hotlanta is slightly hazy golden in color with modest, off-white foam and decent head retention. As it warms, the haziness clears up almost all the way – atypical for this style. Predictably, the aroma is the centerpiece of this beer and it does not disappoint. You get tons of pineapple juice and green banana moving towards simple syrup and vodka-like white alcohol fumes from that higher ABV – a combination that gives the beer a tropical mixed drink character. It doesn't strike me, though, as being more ridiculously dry-hopped than its peers in this segment given that NE-style IPAs focus on aggressive late-addition aroma hops and scaled down early boil bittering hops.
With the first sip, the flavor is watery with a white alcohol bite while subsequent sips allow bright pineapple flavors to pop. But all the fun is at the front of the palate during those first few seconds. After that, the flavor falls apart for me. For this style, I'm really expecting a thick, almost milkshake-like consistency and substantial sugar vs. your typical clear IPAs. Instead, Hotlanta is flabby and too dry. This combination doesn't work well as the high alcohol runs wild without any body for balance. Even though this is listed as 8.5%, it feels more like 11% at this stage. And the lack of malt density and sugar also makes the apparent bitterness seem very high and out of control. The aftertaste is more of the same as the harshness compounds with powdery chalk, newspaper, and a continuing alcohol burn. I would give apparent bitterness a 9 out of 10 intensity-wise and sugar a 1 out of 10.
This is actually a clear IPA when it comes down to it. The beer is essentially clear once the chill haze is gone, and the hallmark juicy, sweeter flavors of the style are missing. The oats addition, which is one way to add haziness and bolster mouthfeel, doesn't stand out at all for me. Now totally separate to this missing the mark for the style, Hotlanta is too dry. I do really appreciate the Galaxy dry-hopping, which radiates ripe pineapple. But the fundamental balance is off, and it becomes a chore to drink after a few sips.
To be fair, Hotlanta isn't too bad and the tropical flavors do impress in the aroma and initial taste. The main issue is that the mid-palate and finish are too dry for this style. Otherwise, I really like the idea and think it would work well on a less attenuated base beer with lower ABV, lower bitterness, and substantially more oat character.