Review – Southern Tier Oak Aged Un*earthly IPA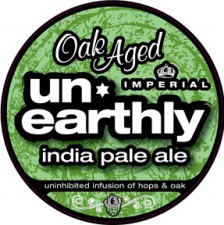 From Southern Tier Brewing Co. – At the Southern Tier Brewing Company, vigorously hopped beer is our standard and inspiration. We continue a commitment to innovation with an aggressive offering. Oak Aged Unearthly is a manifestation of the brewer's craft; skillfully balancing art and the forces of nature to produce a divine liquid. Delicately pour a taste of this oak aged brew into a fluted glass. Smell the enchanting aromas of the hops waft forward as your first sip divulges this beer's fervent soul. To underestimate Oak Aged Unearthly is to trifle with the mysteries of the universe, so please consume wisely.consider it an immoral act to blacken an ale. We suggest they don't rely on conventional standards. Allow the darkness to consume you. Cheers!
Southern Tier Brewing Co. – Oak Aged Un*earthly IPA – 22 oz. bottle poured into a goblet.11% abv. Purchased at Hops and Grapes – Glassboro, NJ.

Appearance: Pours a bright copper with a small amount of gathering suds.

Aroma: Citrus, a small bit of wood, sugary caramel sweetness, and pears. Very perfumy.
Taste: Honey, pear, bitterness, caramel and wood.
Mouthfeel: Juicy and sticky.
Overall: Fantastic, but not an IPA. If you are looking for that fantastic, unique blend of hops used in OG Unearthly IPA, you won't. This is nearing barleywine territory, and is mighty impressive.