Review – Samuel Adams Longshot Cranberry Wit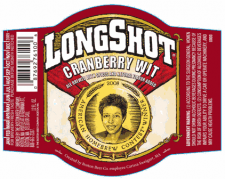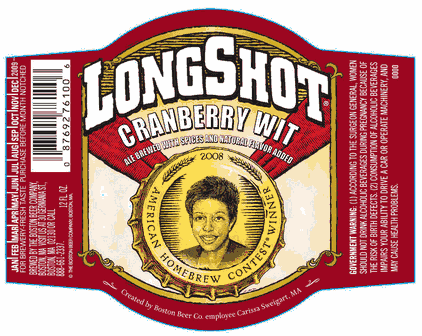 From The Boston Beer Co. – Created by Samuel Adams Employee Carissa Sweigart. Brewed with ingredients signature to Carissa's home of Massachusetts this Cranberry Wit is spiced with a blend of cinnamon, orange peel, coriander and grains of paradise, and finished with a touch of cranberry. This bright, fruity and refreshing brew is reminiscent of an autumn day in New England.
Boston Beer Company – Samuel Adams Longshot Cranberry Wit – 12 oz. bottle poured into a Samuel Adams specialty glass. Abv not listed on bottle.

Appearance: Pours a cloudy, dull peach yellow. Starts with a bright white 1/4 inch head that eventually subsides to a stripe.

Aroma: Twangy cranberry, biscuit malt, fruity yeast, and spices.
Taste: Cranberries, tart raspberries, cinnamon, cloves, biscuity malt, and a touch of spicy, bitter hops in the finish.
Mouthfeel: Rather fizzy, a bit thick.
Overall: A bold, flavorful wit bier. I am impressed that Samuel Adams kept the sweetness down.  I feel they are trying to keep the non beer lover in the loop with something like Cherry Wheat and Imperial White, but this beer would be a great example for the new and old beer lover.