Reviewed: pFriem Mosaic Single Hop Pale Ale
Product description: Deep within the arid climate of Washington's Yakima Valley grows the Mosaic Hop, a newcomer that makes its debut in our pFriem Mosaic Single Hop Pale. This strong ale glows with an amber hue. Wafts of mango and citrus tease the senses just long enough before its assertive taste takes over with hits of lemon, pine and a slight tinge of blueberry. Make no mistake; this ale has a bright and tasty future. 6.3% ABV, 45 IBUs. Malt: Rahr Pale, Simpsons Cara Malt, Simpsons Crystal Light. Hops: Mosaic. Yeast: American Ale.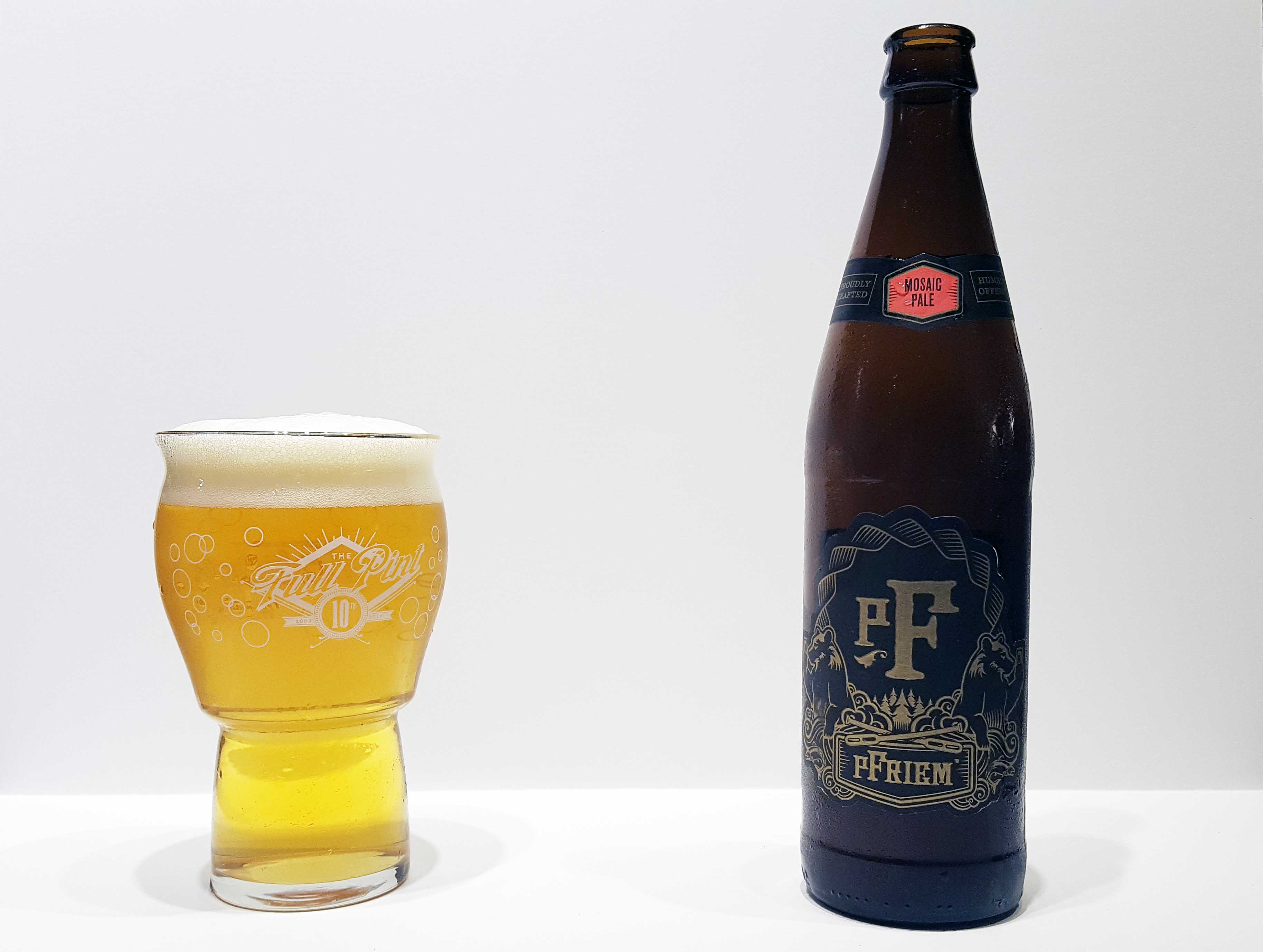 I was introduced to pFriem (pronounced freem) in 2013 while visiting Portland, OR. At the time, it seemed pFriem was making a name for themselves by tackling Belgian styles and making some phenomenal ones at that. I'm not exactly sure when they started bottling, but it was at least as far back as 2015. Fast forward to today, and pFriem has a large lineup of bottled beers – at least 22 – with super impressive design language. Though the bottles say "Proudly Crafted, Humbly Offered", these beers look elegant and regal – easily the fanciest looking bottles on a store shelf. Unfortunately, distribution seems to be limited to Oregon, Washington, and British Columbia.
I sampled this beer from a couple of 500ml bottles dated 1/23/18. I tried one very fresh and another about a month later. Both were very similar, so I think shelf life for this beer is very impressive. I found the same thing was true with their IPA, which will be a separate review.
pFriem's Mosaic Pale is a brilliantly clear straw in color with thick meringue foam that rises up out of the glass. It's beautiful. The aroma begins with bright Mosaic hops with fresh pineapple and pineapple upside down cake. As it warms, it moves to vanilla dessert, sweet cream, honey bread rolls, and orange marmalade.
The front of the palate is sweet and richly bodied with a yellow cake type of density. The mid-palate at first bounces around between some mild paper and touches of dish soap, but ends up cleaning up over time to reveal an excellent house malt blend that gives you smooth butterscotch toffee. I noticed this with both bottles, which was the only thing not perfect about this beer. But the overall mouthfeel is still highly impressive for this style. It's rich and filling with excellent balancing sugar while high-carbonation keeps things lively. There's also a surprising amount of acidity in the backend, which adds a nice lactic-type density in the back of the palate. The one thing I didn't mention is bitterness. Hop bitterness here is merely an afterthought at a 4 out of 10 intensity-wise. Sweetness is similar. This combination makes for one nuanced, soft, and deliciously drinkable beer.
Overall, pFriem's Mosaic Pale Ale is pure bliss. Every detail about this beer is impressive. The malt bill, fermentation character, mouthfeel, even the packaging put this beer in the upper echelon.