Reviewed: Green Flash Sea to Sea Lager
Product description: Our San Diego roots are landing in Virginia Beach! Bringing you freshness from East to West, Sea to Sea is an unfiltered Zwickel lager layered with German Pilsner malts, Hallertau Mittelfrüh and Czech Saaz hops, 2-row barley, and traditional Pilsner yeast. This sessionable brew has a light body with subtle sweet malt and fruity hop flavors, notable lager yeast, and a crisp, clean finish. 4.0% ABV, 23 IBUs.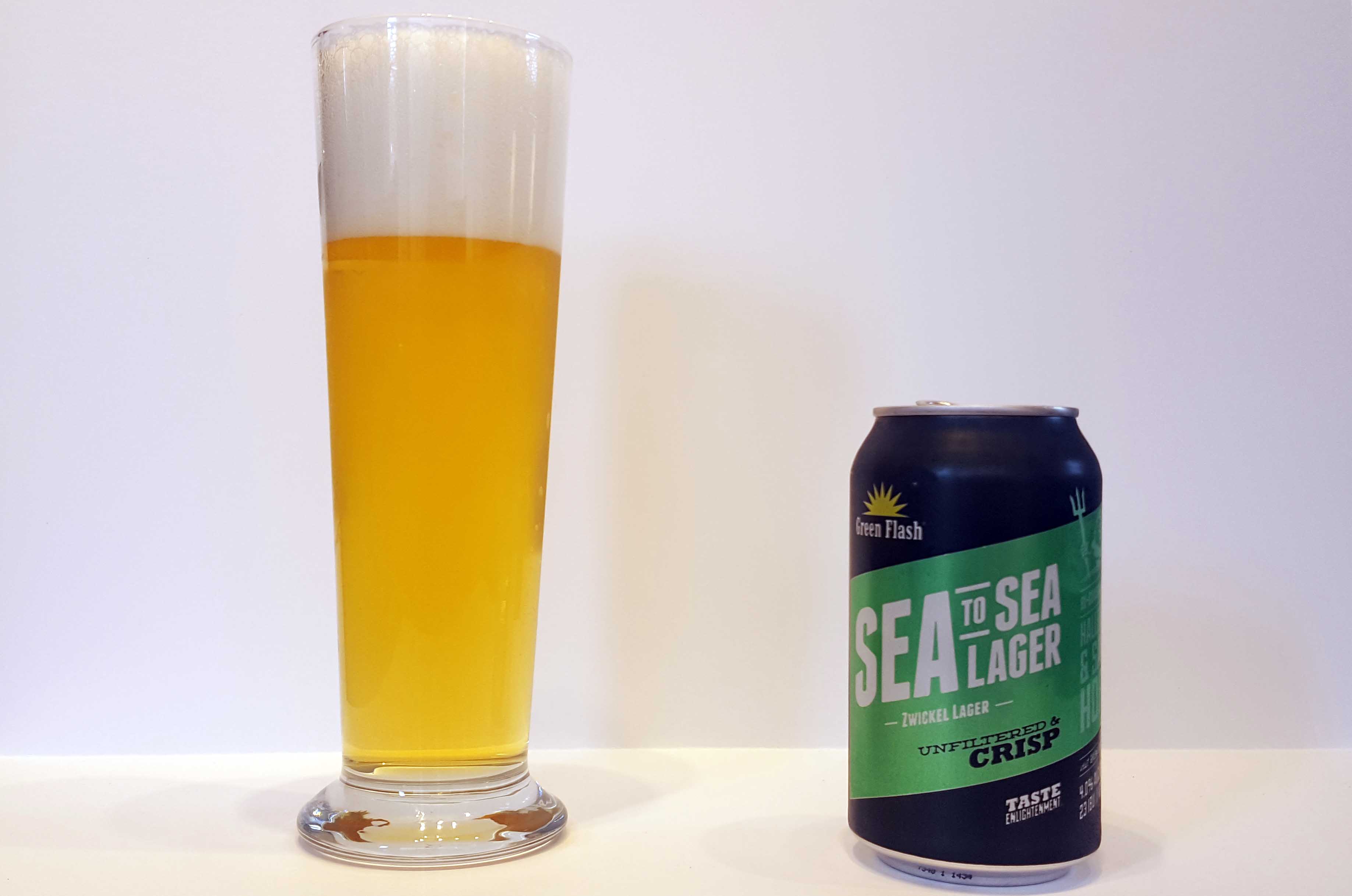 Sea to Sea Lager joined Green Flash's core lineup last year and adds something to the wider craft beer scene that is desperately missing: German lager. More specifically, Sea to Sea is meant to be a German Zwickelbier (zwickl), which could be summarized as an unfiltered and unpasteurized pilsner-like Bavarian or Franconian lager. It's nearly synonymous with Kellerbier (cellar beer). The Sea to Sea name comes from Green Flash's two main production breweries: San Diego and Virginia Beach.
I ended up going to Green Flash directly and purchased a 6-pack from the brewery tasting room ($10). Originally, I was ignorant of how to figure out freshness for Green Flash/Alpine products as they don't have your usual MM/DD/YY format. After reaching out to the brewery, it turns out these (and their other products) are dated, but not in a user-friendly way. For starters, when you turn the can upside down looking for a canned-on date, it's blank. On the outside rim of the can's bottom, though, is a code in a very small font. This 9-digit code is interpreted like this (directly from Green Flash): "Born On dates are written like this: 8123 1 1234. The first four digits are the day it was packaged. The first is for the year: 7 represents 2017, 8 represents 2018. The next three digits are the day of the year: 001 being January 1st, 365 being December 31st. The solo number depicts which facility it was produced at: 1 is San Diego, 2 is Virginia Beach. The final 4 digits are the time it was packaged, written in military time." My honest opinion is that this is simply too complicated for your everyday consumer.
So, after some deciphering, it turns out my cans purchased directly from the brewery are from December 14th 2017, or exactly three months old. I reached out to a personal friend who is an expert in this style, and he was of the opinion that even at that age zwickl should still hold up well. Even though I previously thought that zwickl/kellerbier was usually a tap only offering, bottled versions are available in Bavaria and Franconia.
Out of the can, Sea to Sea is crystal clear pale straw in color and generates a larger white head of foam that's exaggerated by the pilsner flute. Head retention is solid, and after each sip, nice rings of lacing are left on the edges of the glass.
The aroma starts with corn flakes and cracked wheat – a more husky type of grain character. Candied lemon and chamomile poke through as well. Flavor-wise, this beer is a bit rough from start to finish. High carbonation dominates the front of the palate. Once it subsides, there's prominent soapiness and paperiness. Compared to similar beers like Firestone Walker Pivo Pils, it's not as clean or crisp and bitterness is almost non-existent. Cream of wheat and oatmeal add some much-needed malt richness while bitterness is relegated to a muted herbal, grassy bite. What I do like about this beer is that there's a sourdough bread component that builds in the finish coupled with some lemon acidity. The more you drink it, the more this acid builds in the back of the palate. The aftertaste is surprisingly long and very enjoyable to me at least.
Overall, I'm very happy that Green Flash has added this to their core lineup. This is a beer that we greatly need in distribution to break up the congestion of IPAs on the shelf. It currently needs some tweaking in my opinion, but the potential is there. Even though my review may sound critical, the truth is that I would reach for this beer in the fridge almost every time after passing on stouts, IPAs, and others. The refreshing component is there: lemon acidity, high carbonation, low alcohol, and prominent graininess. I do wish that the Saaz/Hallertau component was sharper, brighter and that the body was smoother and better refined. I still think it's worth trying out and hope that Green Flash continues to bring pale German-style lagers to the American marketplace.