New Belgium Lips of Faith: Super India Pale Ale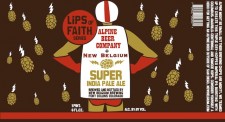 From New Belgium – Alpine might be small, but their brewing chops are mighty. We teamed up to create this triple dry-hopped imperial IPA bursting with Columbus, Amarillo, Centennial and Simcoe hops. Consider yourself a hero for getting an Alpine beer outside of San Diego.
New Belgium Brewing – New Belgium Brewing in Collaboration with Alpine Beer Company Lips of Faith: Super IPA – 22 oz. bottle poured into a goblet. 9% abv.
Appearance: Pours a bright clear amber gold. Not much head, not much lacing.
Aroma: Pineapple, dank. New Belgium perfumy yeast. Lemon drops.
Taste: Pineapple for days. Caramel malt, soft bitter finish.
Mouthfeel: Full bodied, borderline syrupy, modest carbonation.
Overall: I'm one of those cats that's lucky enough to enjoy fresh Alpine IPAs here. So while this was an easy drinking Double IPA, it was a bit sweet, and not much like an Alpine IPA or Double IPA. Would have liked more bitterness as well.