Smuttynose Baltic Porter 2009 (3 Years Later)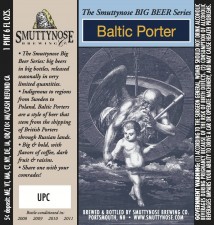 From Smuttynose – Native to northern Europe, Baltic porters evolved from British porters once exported to the Russian hinterland. Unlike their British cousins, Baltic porters are often brewed as lagers, the tradition we've followed. This beer is big, bold & smooth, with malty flavors reminiscent of coffee, dark fruit & raisins. Share one with your comrades!
Smuttynose Brewing – Smuttynose Baltic Porter Vintage 2009, Enjoyed September 2012. – 22 oz. bottle poured into a goblet. 8.7% abv.
Appearance:  Pours a viscous dark brown with frothy tan edges.
Aroma:  Roasted malt, dark fruit, wood, vanilla, smoke.
Taste:  Roasted smokey malt, dark chocolate, wood, burnt roast. Long bitter chocolate finish.
Mouthfeel: Full bodied lively bubbles.
Overall: One of the few occasions where I've enjoyed a beer cellared more rather than fresh. This beer could probably hold up another two years without a blink. Tasty, roasty, complex, chocolaty but not sweet. Great job.