New Belgium Lips of Faith Super Cru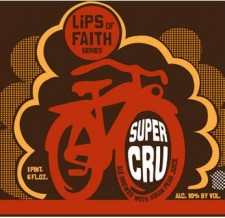 From New Belgium Brewing – Our 20th Anniversary! Let's roll a bunch of New Belgium together and put it in a bottle. Start with the backbone of Fat Tire,but double the malt and hops; Add in crisp Asian Pears, a very Balgian thing to do; and bring it to life with a Saison yeast. It's New Belgium Super Cru from us to you!
New Belgium Brewing – New Belgium Lips of Faith Super Cru – 22 oz. bottle poured into a goblet. 10% abv.
Appearance: Pours a translucent copper with a thin white film of swirls. Leaves behind no lacing.
Aroma: Musty earthy yeast, celery leaves, perfumy Belgian yeast.
Taste: Toasty malt, pear sweetness, Belgian yeast, earthy fat tire yeast. You could taste a some alcohol, but definitely didn't come across that big for a beer in the 10% range.
Mouthfeel: Full bodied, very subtle carbonation.
Overall: Complex, funky, pretty tasty. I had a chance to have it from cold, to cellar temp to room temp. It gets breadier as it warms for sure. While cold, you will get more of the pear.