Three Floyds Evil Power Pils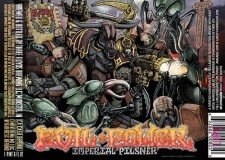 From Three Floyds – A fortified European-style Pilsner, lagered to perfection, brewed with Heavy Metal Warriors Lair of The Minotaur, in commemoration of their fourth full length release "Evil Power"
Three Floyds Brewing – Three Floyds Evil Power – On tap at DLD2011 7.2% abv.
Appearance: Pours an amber orange with a thin white ring of head.
Aroma: Fragrant German hops.
Taste: Spicy hops and pale malt. Nothing corny that I could tell. Fairly clean with well hidden alcohol.
Mouthfeel: Highly carbonated, which made the hops all the more spicy on my tongue.
Overall: I'm glad I tried it, it wasn't something I'd seek out or buy for $10.00 a bomber, but solid and well executed.