The Bruery The Wanderer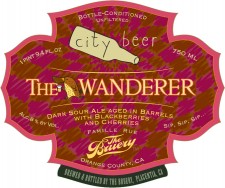 From The Bruery – Wandering into a serendipitous meeting in Boonville led to the forging of a relationship between City Beer Store and The Bruery and a beer collaboration worth celebrating. Cheers to five years! Suitable for aging up to five years if cellared around 55F (13C). Ideal serving temperature is 50F (10C). Please pour carefully, leaving the sediment behind in the bottle. Best served in a tuilp or wine glass.
The Bruery – The Bruery The Wanderer – On tap at ColLAboration Beer Gardens and Events Hollywood – 8% abv.
Appearance: Pours a bright amber with a while film sitting a top. Didn't leave much in the way of lacing.
Aroma: Sour fruit, funk, wet barrel.
Taste: Sourness, mild vinegar,tart berries.  Sourness doesn't linger forever, inviting you in for another sip. Not a lot of wood notes from what I could gather. Fairly balanced between fruit and sour.
Mouthfeel: Medium bodied, modest carbonation.
Overall: I thoroughly enjoyed this beer. The Bruery nails it almost every time on sour ales.  The biggest talking point of this beer has been how hard it is to obtain it outside of San Francisco. As of this writing, the beer is going crazy on the gray/trade market.  With that in mind, I like this beer a lot, however I would put Marron Acidifie and Oude Tart hair above this beer. Please keep that in mind when you are handing over your first born child for a bottle of City Beer's The Wanderer.