Great Lakes Grassroots Ale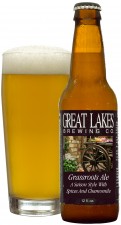 From Great Lakes Brewing – This mild ale honors the grassroots foundation of our company and our unwavering commitment to Mother Earth.
Great Lakes Brewing Co. – Grassroots Ale – 12 oz. bottle poured into a goblet. 6.2% abv. From trade on ratebeer.com with Dan from PA!
Appearance: Pours a yeasty, cloudy yellow gold with a decent gathering of white froth on top.
Aroma: Breadiness and spice.

Taste: Belgian yeast, a little bit of coriander or something mighty herbal, and a modest spicy hop finish.
Mouthfeel: Medium bodied.
Overall: Just average for the style. Not as refreshing as I would have liked it to be.