Three Floyds BrooDoo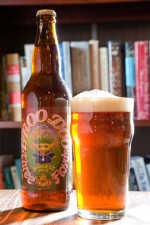 From Three Floyds Brewing – This beer is brewed during the hop harvest with a portion of unkilned or "wet" hops fresh off the vine.  Apricot in color, Broo Doo's nose has dominant orange, pine sap and floral notes, balanced by a glazed nut and toffee malt body.  This celebration of the hop harvest has intense tropical fruit, citrus and spicy accents that showcase the complexity of the hops we all love. October release.
Three Floyds Brewing – BrooDoo Harvest Ale – 22 oz. bottle poured into a pint glass. 7% abv. From Joshua in Indiana!
Appearance: Pours a cloudy peach with a creamy looking off white head.
Aroma: Orange, grapefruit, mango, peach, and sweet sugary malts.

Taste: A layer of sweet caramel malt, gummy orange slices (candy) up front. Ends with some spicy citrusy bitterness.
Mouthfeel: Sticky and creamy.
Overall: Even not being super fresh, this beer rocks big time. Similar to other 3F beers I've had. Great profile.