Hoppin' Frog Hoppin To Heaven IPA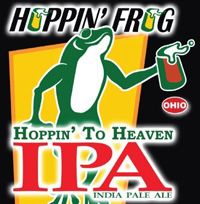 From Hoppin' Frog Brewing – Raise your glass to the heavens in a toast to HOPS – the spice of beer! This classic American I.P.A. features the finest American hops to add a spicy, assertive, and citrusy character to its full-bodied, rich malt taste.
Hoppin' Frog Brewing – Hoppin To Heaven IPA – 22 oz. bottle poured into a pint glass. 6.8% abv. From Joshua in Indiana.
Appearance: Pours an amber gold with a foamy 1/4 inch white head. The body is partially cloudy (Dan The Weather Man, They Call Me), letting plenty of light through.

Aroma: Grapefruit  and spicy malt, and a little brown sugar.
Taste: Bitter hops. caramel malt, some slight citrus (orange, lemon, and grapefruit), and finishes with peppery spiciness and a little bit of a tart twang.
Mouthfeel: Low to medium bodied with tickling bubbles.
Overall: A decent IPA, maybe a bit to malty for me, but not everything can be a juicy floral IPA can it?