Grand Teton Bitch Creek ESB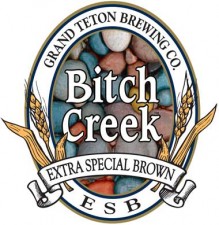 From Grand Teton Brewing – Bitch Creek perfectly balances big malt sweetness and robust hop flavor for a full bodied, satisfying mahogany ale. Like the stream for which it is named, our Bitch Creek ESB is full of character… not for the timid.
Grand Teton Brewing – Grand Teton Bitch Creek – 12 oz. bottle poured into a goblet. 6.5% abv.
Appearance: Pours a dark amber with white swirls atop.
Aroma: Cocoa powder and hazel nut.
Taste:  Dark chocolate burnt toast some grassy hops.
Mouthfeel:  Medium bodied with average lively bubbles.
Overall:  I can't believe it took me this long to try this beer. It's wonderfully balanced, flavorful, and something I'd love to get by the 12 pack.